Donald Trump has been saying a lot of stupid stuff lately. Most recently, he called for ''a total and complete shutdown of Muslims entering the US." So it seems pretty fair that some people are comparing him to Harry Potter villain Lord Voldemort.
But J.K. Rowling thinks the comparison is unfair. Voldemort isn't that bad. 
How horrible. Voldemort was nowhere near as bad. https://t.co/hFO0XmOpPH

— J.K. Rowling (@jk_rowling) December 8, 2015
Unsurprisingly, the tweet has amassed some 50,000 retweets in three hours. And the idea seems to be spreading.
Donald Trump is like if Voldemort had the childhood of Danny Torrance from The Shining.

— Kendra Alvey (@Kendragarden) December 8, 2015
My theory is that Trump is Voldemort & if the media stops saying his name, Harry Potter will come destroy him. America will be great again.

— Linds (@lindsaysmetanka) December 7, 2015
Let's just remember that Voldemort wanted to kill and/or enslave every single muggle, and people still think Trump is worse. Ouch.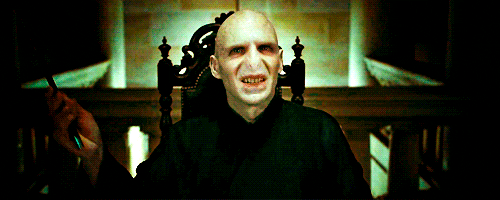 And this isn't even the first person Trump has pissed off today. Earlier, Amazon owner Jeff Bezos offered Trump a one-way trip to space after the presidential candidate claimed Amazon wasn't profitable.
The @washingtonpost, which loses a fortune, is owned by @JeffBezos for purposes of keeping taxes down at his no profit company, @amazon.

— Donald J. Trump (@realDonaldTrump) December 7, 2015
Finally trashed by @realDonaldTrump. Will still reserve him a seat on the Blue Origin rocket. #sendDonaldtospace https://t.co/9OypFoxZk3

— Jeff Bezos (@JeffBezos) December 7, 2015
h/t Mashable