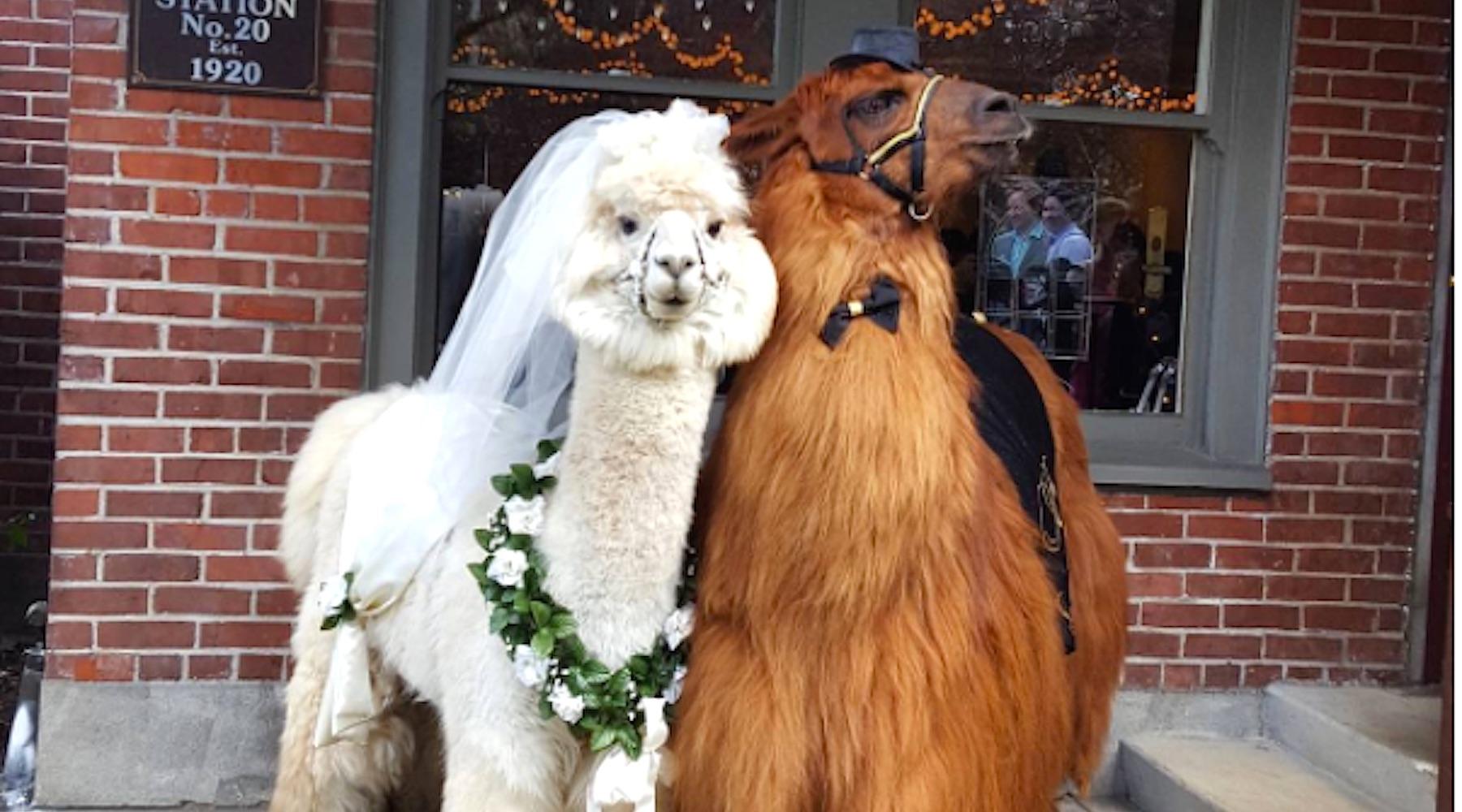 You Can Now Hire Llamas To Be Your Perfect Wedding Accessory
By Aimee Lutkin
It's a tough economy. Even licensed therapy llamas are looking for side gigs. Mountain Green Therapy Llamas and Alpacas are available for hire at all sorts of events, but lately they've been a huge hit at weddings, according to Cosmopolitan. Their website says you shouldn't worry that the work is beneath them. These llamas shine everywhere they go and are the perfect accessory:
"Our animals are 'pros' when it comes to parties and special events- always decorated to compliment, our llamas can easily handle all ages, and any size of crowd! More than just "entertainment", we provide a unique interactive experience for your guests, that most have never experienced before, and smiles that will last forever!"
I have been smiling since I saw the pictures, so that's probably true:
The proceeds from weddings and other events also go to a good cause, funding the organization's Therapy and Education Program. The animals also have conscientious caretakers. They don't make them travel during peak traffic hours or extreme weather, to avoid stress to these little workers. But if you catch them at the right moment, a wedding llama is perfect for every aspect of your big day, like an elegant photo shoot:
Or as an icebreaker for guests:
Not gonna lie, that's a lot of llama kissing. Hopefully these llamas won't come between any new couples! They mostly seem too professional for that. Look at these fluffy sentinels:
Honestly, having a llama at the wedding may actually be the first compelling reason I've ever seen to get married. And because they're trained therapy animals, they're perfect for stressed out brides and grooms everywhere. Give a llama a hug before you walk down the aisle and you'll say your vows smiling.