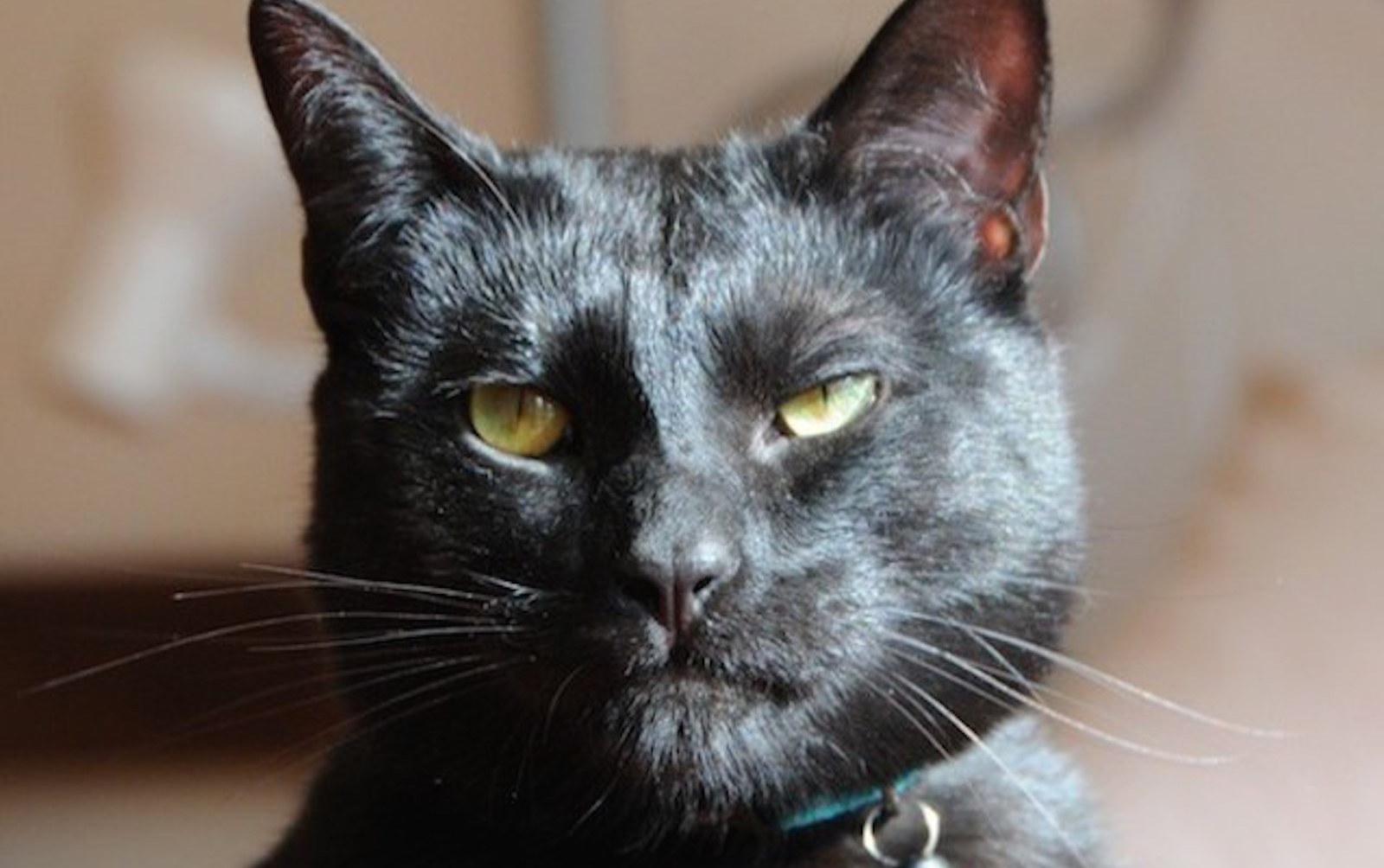 Animal Shelter Writes Hilarious Adoption Ad For Jerk Cat Trying To Find A Home
A very naughty cat named Mr. Biggles in Melbourne has risen in fame on the Internet for basically being terrible. That makes perfect sense to me, because as all cat lovers know, we love them because they're awful. That's what makes them such interesting companions. You don't know if your cat is going to bite you or purr until it's too late. The excitement keeps us feeling alive!
Article continues below advertisement
Adoption agency Cats Of Melbourne wrote a personal ad for Mr. Biggles because they want him to find the right forever home, and that means total honestly. Perhaps too much honesty, in this case. It reads in part:
Mr Biggles (also known as Lord Bigglesworth) is an utter utter utter bastard. He looks gorgeous with his slinky shiny black fur and big yellow eyes... but beware. If he doesn't like what you're doing he will give you a nip! Sometimes he likes to swipe at your feet too. It just depends on what he can reach at the time.
Mr Biggles does not like to be thwarted. He throws a catty tantrum if he can't go outside when he wants to be let out (and he wasn't allowed outside for the first couple of weeks at his carers house so there was a few tantrums!). Not being fed on time, or allowed to strut across the kitchen benches helping himself to whatever is there is also a tantrum inducing exercise.
Mr Biggles is a despot and dictator, he will let you know he is not happy, which is often because things are often just not up to his high standards. There is some warning that Lord Bigglesworth is displeased with you, his eyes will go dark and tail will start swishing harder. Mr Biggles likes his cuddles on his terms, and will sit in your lap when he decides it's time. If the stroking is not up to his standards, he will nip you.
Yikes! But it's all worth it, right?
Article continues below advertisement
Yes, there are some benefits to bowing down at the feet of Lord Bigglesworth:
Mr Biggles does have a secret soft side... he plays with kittens and actually does love a cuddle from time to time. He loves to be involved with what you're doing and loves to have a chat, he will respond if you talk to him. While he's not a fan of being picked up, likes a pat and cuddle from time to time and even permits kisses on his shiny black head if he's feeling mellow. He loves sleeping on the end of the humans bed, and in his cat bed (and he snores just a little bit, it's so cute).
He's also "stupidly healthy" and very loyal...once you've won him over.
Biggles is currently being fostered by a man named Brett in Melbourne, who told the Huffington Post that Mr. Biggles is "currently sunning himself in my backyard and eyeballing the chickens with a view to murder," and that though he's gotten a lot of responses, no one has yet stepped up to adopt Mr. Biggles into their home.
How can this be? Everyone knows that people like winning over jerks. If the jerk you love is fluffy and cute, it's even more incentive. Hopefully, someone falls in love with Mr. Biggles soon or I may have to get on a plane to Melbourne myself. My own cats are just too into me.