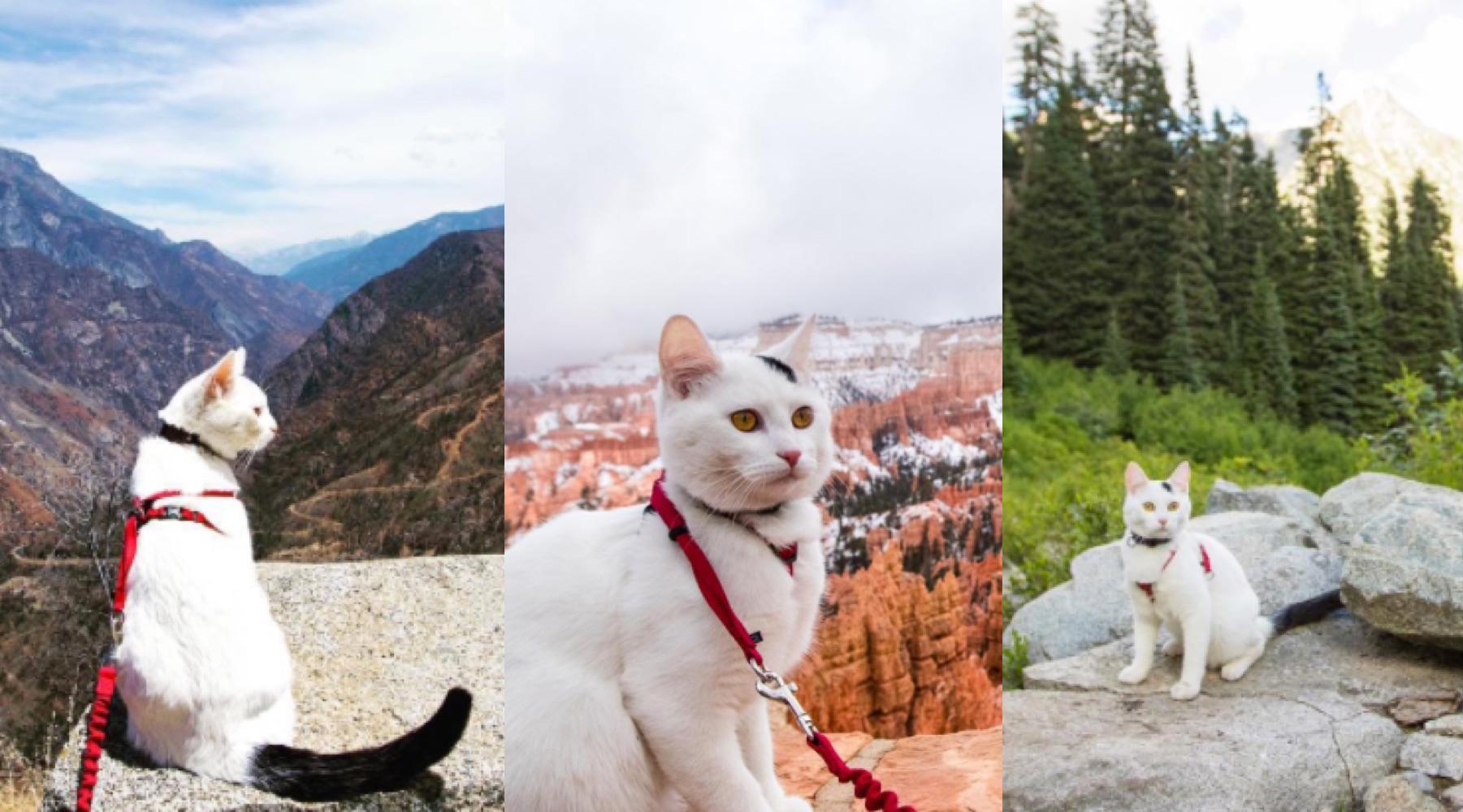 This Cat Is Visiting Every National Park And The Pictures Are Purrfect
By Aimee Lutkin

Updated
Chances are you're reading this on your phone, possibly in the bathroom at work after scrolling past a few adventure and travel photos on your Instagram feed that seem incredibly foreign thanks to spending 50 plus hours per week in a cubicle, isolated from people, nature, and during the winter months, sunlight.
We view people in those adventure accounts as influencers that live the ideal life for normal people. Some folks set a life goal to eventually go out to only one of those locations in what the influencer may have deemed to be good enough for today's Instagram post.
It's one thing when it's another person that's sharing these experiences, but imagine if you saw an animal who was not only living it up on the road but also looked infinitely more aesthetic than you ever did while doing so. It would be a swift kick to your ego's metaphorical nads, but you know that you'd be the first person to scroll up, click on their username, and hit that follow button along with turning on notifications so you're kept up to speed on the animal's latest adventure.
Article continues below advertisement
Vladimir the cat has been traveling with his people Cees and Madison Hofman in an old Toyota RV basically since birth. Yahoo News reports that the threesome has been to 52 of the 59 state parks so far. That doesn't sound like something a cat would enjoy, but he looks like he's having a good time:
Article continues below advertisement
According to the human couple's website, Cees proposed to Madison in Yosemite National Park in 2014. Since then, advocating for the preservation of our parks system has been an incredibly meaningful project for them both, and they took to the road full time in 2016, naming their RV 'Our Vie' which is a play on the French word for "life." Since the project began, they've added to the family with a baby named Theo, named after famed conservationist Theodore Roosevelt. And they've really seen it all:
Article continues below advertisement
Article continues below advertisement
Article continues below advertisement
If it stresses you out to imagine a cat traveling across the country (mine meows incessantly as soon as he goes in the carrier), Vlad's humans have had him since he was a baby, so he's pretty acclimated:
Article continues below advertisement
And they've figured out how to get him around when he's tired of walking:
Article continues below advertisement
Article continues below advertisement
Though he does have limits:
Article continues below advertisement
But nothing will stop his adventures: