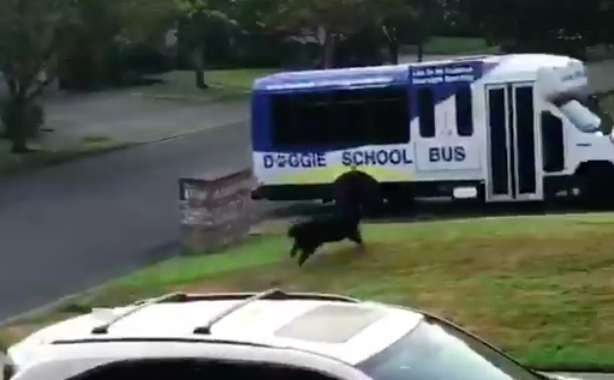 Get Excited For Back To School With This Incredible Doggie School Bus
By Jaime Lutz
A video showing a dog running outside to catch a DOGGIE SCHOOL BUS went viral this week—and yes, it's real. And it's wonderful. I honestly don't think that you're ready for this jelly. What you're about to witness is the goodest of goodest boys excited as all heck for a day of learning and fun. It's too cute for words.
The school bus is run by Oregon dog trainer Arat Montoya, who should get his own Cesar Millan-type show stat. It's basically a doggie daycare that includes pick-up and return—and yeah, dogs love it. Why wouldn't they? They get to do what people do but much better, because they actually love what they're doing, instead of the "have to" attitude that most human beings have. Man dogs are so much better than us.
Where does the Doggie School Bus go, you might wonder? "Each dog is properly introduced to the pack then the dogs are taken to fenced in pastures and allowed to run freely for 2 hour intervals," according to Montoya's website. That sounds like a pretty sweet gig. You're a dog and you get to hang out with other dogs, complete with its own chauffeur service? Nice.
"Rest hour and overnights are at his house, where each dog is given a mat to rest on," the site continues. "They learn how to play and rest as a group and end each day as a happy camper." No wonder the dogs are so excited to go to school, heck I would be excited to go to this school if that was the case.
But it's not just the dogs that give good reviews—their owners do too.
If only everyone would be as happy to go back to school.
[h/t Daily Dot]