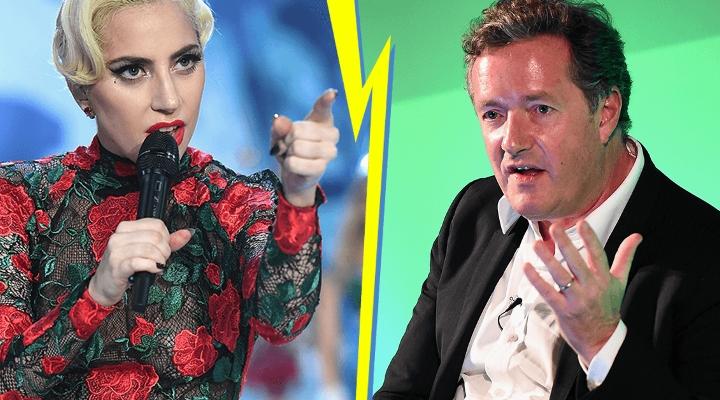 Lady Gaga Challenged Piers Morgan To An Interview After He Mocked Her PTSD
By Margot Harris
Good Morning Britain host Piers Morgan is no stranger to Twitter feuds, thanks to his endless tone-deaf remarks about women, minorities, and celebrities (may we never forget how Chrissy Teigen destroyed him on Twitter).
Morgan's most recent comments challenged Lady Gaga's experience with sexual assault and PTSD — but the talented singer and actress turned his Twitter rampage into an opportunity to educate him (and the rest of the world) about mental health.
Over the weekend, Morgan wowed Twitter with his unparalleled empathy by describing PTSD as "the latest celebrity accessory."
...What an excellent way to promote the very necessary conversation about mental health.
He went on to respond to a Lady Gaga fan's tweet about her PTSD by questioning Gaga as well as fellow singer Madonna's accounts of sexual assault.
Perhaps someone should hit him with the statistics on false reporting.
Thankfully, Lady Gaga had plenty to say about this, so she decided to educate Morgan with some tweets of her own.
Of course, Morgan had a cringeworthy response — and he requested an interview.
He even took the time to defend his status as a broadcaster with a sufficiently wide audience for the high profile interview, asking Gaga if she could "handle him."
As Lady G's response suggests, Morgan has no idea what he just got himself into.
Even when taking on a more conciliatory tone, Morgan just couldn't resist one more dig at the singer.
But Lady Gaga wasted no time in reminding him that the attitude is not going to work for her — and there are plenty of other journalists who want the story.
Ultimately, though, Morgan promised to "play fair."
This is one Piers Morgan interview we're looking forward to. Piers, you're going down.