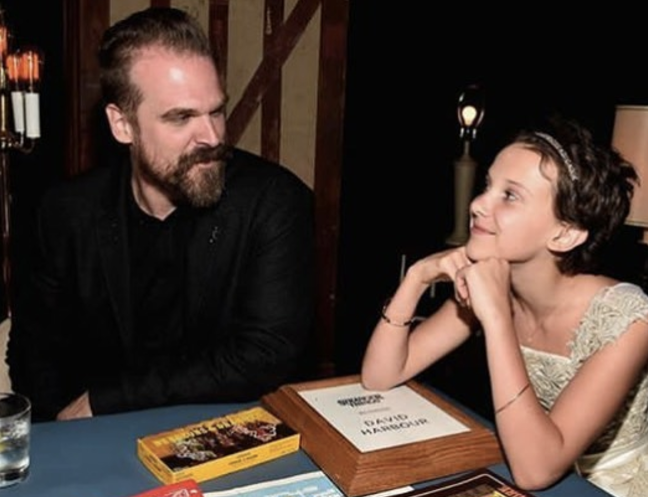 Barb And Eleven From 'Stranger Things' Got Emmy Nominations Today And Freaked
By Jaime Lutz
The Emmy nominations announced this morning officially made history. Two of the omnipresent Stranger Things kids got nominated for Emmys this year, and one of them—13-year-old Millie Bobby Brown—is the youngest Primetime Emmy nominee in a drama category ever. She's the youngest actor to be nominated, period, since a 6-year-old Keisha Knight Pulliam got a nomination for playing Rudy Huxtable on The Cosby Show in 1986. She'll be going after the Best Supporting Actress award, though, come on—Eleven is kind of the lead, right? This seems to happen a lot in Hollywood where its tough to place someone who has a very prominent role in a show as the lead, because of a larger cast or more well known people playing equally influential roles.
20-year-old Shannon Purser, who played the tragically murdered Barb on Stranger Things, may not technically be a kid—but she's also the youngest actor to be nominated in her category by about 13 years (in fact, the oldest nominee in her category, Cicely Tyson, is 92!). Only in Hollywood can people 72 years apart be "peers" in their respective traits. Of course, we are big fans of Tyson in How to Get Away With Murder and wouldn't be too upset if she takes home the emmy there. Major shoutouts to all the grandmas out there who are doing their thing at the young age of 92.
Also nominated for an acting award from the show is David Harbour, who plays Hopper, the hard-drinking police chief of Hawkins. Harbour is nominated for Best Supporting Actor. On the other hand, the series's big grown-up star, Winona Ryder, was shut out completely, except on our hearts (I mean, her acting in the Christmas lights episode!). Unfortunately for Ryder, the category was pretty stacked and even though we love her in this role, she didn't get the nomination that she deserves. Don't worry Winona, We're still with you!
The sci-fi show garnered a surprising 18 nominations from Emmy voters, though it doesn't lead the nomination pack—that honor goes to Saturday Night Live and Westworld, who garnered 22 nominations a piece.
You can find a list of the Emmy nominations here, and the ceremony, hosted by Stephen Colbert, will air September 17 on CBS. Here's to hoping Stranger Things gets its due and maybe Millie Bobby Brown will get to give the most adorable awards speech ever.