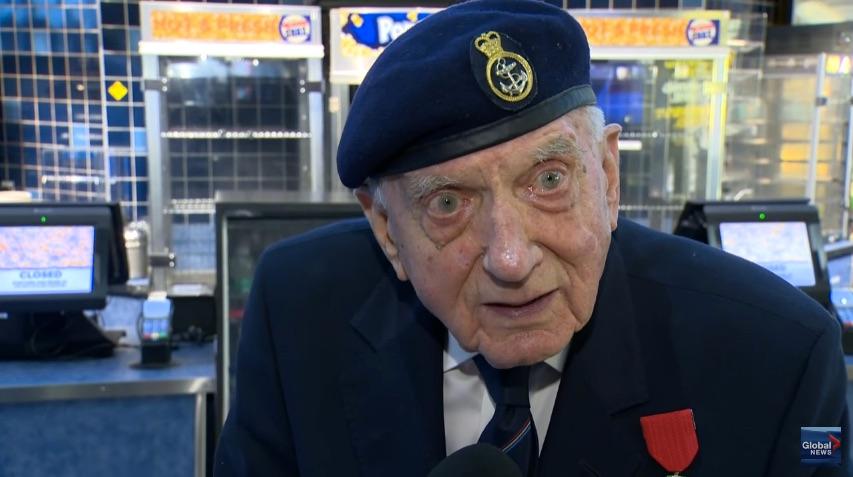 A 97-Year-Old Dunkirk Veteran Saw 'Dunkirk' And His Reaction Is Incredible
By Zachary Brenner
If you haven't seen Christopher Nolan's new movie Dunkirk yet, you need to rectify that problem immediately. It tells the story of the evacuation of 400,000 British soldiers from the French city of Dunkirk in 1940. The movie is getting universal praise and currently sits at 92% on Rotten Tomatoes.
One moviegoer had a very unique experience while watching Dunkirk. Ken Sturdy was actually there in 1940. When he was just 20 years old, he served in the Royal Navy and assisted with the evacuation. Global News spoke to him as he was leaving the theater.
"I never thought I would see that again," he said. "It was just like I was there again."
Sturdy gave a follow up interview to Calgary Herald. He described the real-life Battle of Dunkirk as chaos. "It was not neatly organized — and to some extent it was," he said. "You couldn't just run for a small boat, you waited your turn, you lined up. And whilst this is happening, you're being bombed and shot from the air... It was a strange chaos, a kind of terror that went on for 10 days."
At 97 years old, Sturdy can't help but think about all the young men who didn't survive that battle. "Many of those young fellows we lost were 18, 19, 20. I've lived a long, happy life, but I suppose this weekend my thoughts go back to all those chaps who were my age and didn't live a long life."
Sturdy wasn't the only veteran who said the film brought back memories for him. Nolan invited other Dunkirk veterans to the premiere of the film. While there isn't a video from that night, Kenneth Branagh, who plays a naval officer in the film, did recount their thoughts while on The Late Show last week.
He said that the veterans really felt like they were back on the beaches of Dunkirk, although the movie was much louder than the actual thing. Still, you get the sense that they are happy their story is being told.
Dunkirk is currently in theaters everywhere, so do yourself a favor and see it if you haven't already.