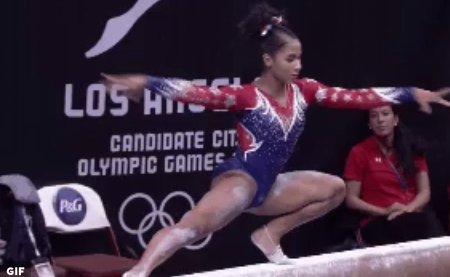 This Gymnast Saved Herself From A Fall And Turned It Into Ballet
By Jaime Lutz
If there's any athlete in the world who could save themselves from an embarrassing or clumsy fall, it's a gymnast. They're drilled and trained and in some cases, beaten into becoming graceful and superbly balance at all times. It's downright amazing to see what they push the limits of the human body to do. For years they've trained themselves to balance on things that we arguably shouldn't be balancing on and they manage to do it all with grace and ultimate poise. Seriously, just walking on that horse is difficult enough, imagine have to jump and prance and flip and contort on it all under the prying eyes of judges and a bunch of applauding spectators. The entire spectacle is wild.
Now I've been in a women's gymnastics funk since the 2016 Olympics ended but luckily, 16-year-old Jordan Chiles is here to save the day. In this video from the P&G Gymnastics Championship—her first national competition in the senior ranks ever—she manages to keep herself from falling in the most epic way imaginable.
And here's the complete routine, which ended up garnering her second place in the competition despite her near-stumble.
Everyone was obviously super impressed by this actual superhero, especially people who actually know stuff about gymnastics.
But, while I love gymnastics, I don't know the names of any of these things so my reaction was basically just:
If that kind of composure doesn't impress you, then I don't know what will. Seriously, what you just witnessed here is composure magic, and this gymnast pulled it off like it was no big deal. I'm impressed if I manage to catch a jar of mayonnaise before it hits the floor while making a sandwich, and here she's going and giving us two performances for the price of one. Incredible. [h/t Mashable]