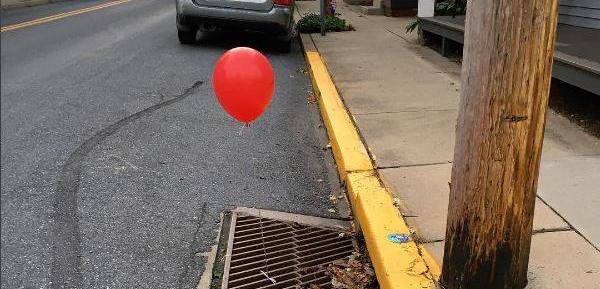 Police Department 'Terrified' Of Red Balloons Found Tied To Sewer
By Zachary Brenner
It will be released nationwide on Friday. You probably already know that, unless you've been living under a rock or in a sewer (get it?). It is an adaptation of a Stephen King novel about a clown named Pennywise who lives in the sewers and murders children. It's supposed to be really good, even if the film's opening scene is about as horrifying and tragic as you'll ever get in any horror movie ever.
Since the book and an earlier adaptation have already existed for decades, It already has a number of fans including one prankster in Lititz, Pennsylvania. The fan tied a red balloon to a grate similar to what Pennywise does in It. Police had to remove the balloon, but they described the experience as "terrifying" and asked that the prankster not do it again.
Residents are thankful that the police took care of the situation because everyone else was also too afraid to deal with it. Obviously it's just a balloon. Obviously it's someone who was just having a laugh at the expense of everyone's else's frightful sensibilities. But then again...that's not something you'd necessarily want to test. The mind starts playing tricks with you, just like late at night when you hear a noise and you wonder if you actually did shut the door or if that tree branch at the window suspiciously looks like a decrepit hand with long fingernails.
But some other people said that this only made them more excited for the movie, and if you're a big fan for people who enjoy watching tales of monsters that enjoy eating children, well, then you probably found this little prank downright hilarious.
The prankster has yet to be caught, but let's just hope his joking days are over. The cops don't wanna deal with that stuff.
[h/t Boing Boing]