You can be a nerd with pretty much just about any subject. We've all met football nerds who can spout the college stats of an NFL player who was a benchwarmer for the majority of their career. We all know Pokemon nerds who can name some obscure fictional monster and rattle off a million reasons why they're overlooked as such a competitive character in the game.
It doesn't matter how "cool" the subject matter is, once you start getting granular to the point of isolating others, people call you a nerd.
And even though it might sound like an insult, being a nerd about certain things isn't all bad. Because if it wasn't for a certain amount of obsession with particular topics, we'd never advance collectively as a society.
And while Dr. Bob Nicholson isn't exactly inventing commercial electricity for the masses with his recent tweet about the incorrect portrayal of newspapers in the upcoming film, The Man Who Invented Christmas, he does make a pretty good point with his nerdism.
The film is set in Victorian era England and tells the tale of Charles Dickens writing A Christmas Carol. Nicholson's gripe isn't with the movie or any of the performances or the subject matter. No, Dr. Bob Nicholson is a historian of Victorian culture, and is angry about the inaccuracies in the trailer regarding what newspapers looked like during that time.
The man is seemingly livid and went on a tweetstorm showing tons of examples as to what newspapers looked like back in the day.
They're a far cry from the headline-centric paper actor Dan Stevens is brandishing in the film.
I mean, look at this mess: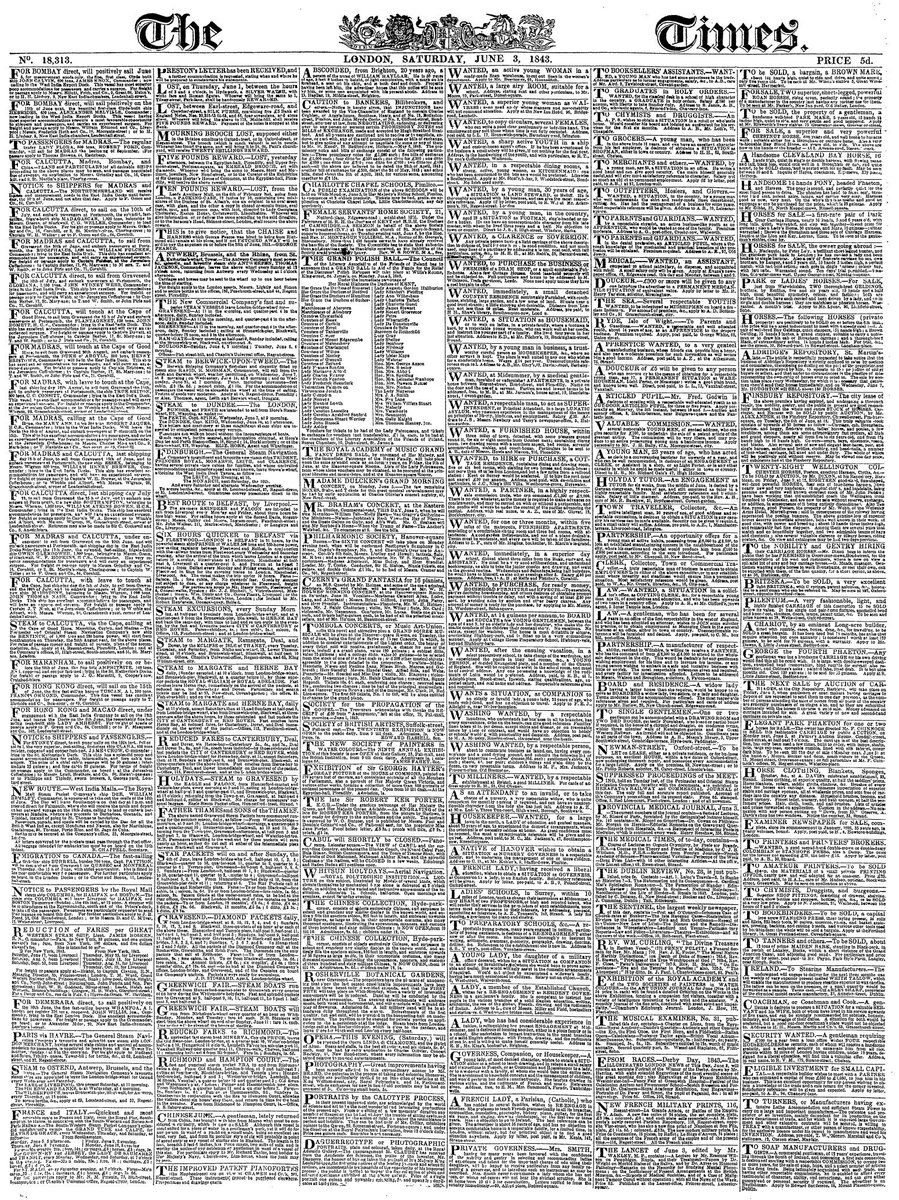 Even long after Dickens died, newspapers didn't change all that much and still featured front pages devoid of enormous headlines.
Yes, even the more sensationalist papers.
Nicholson admits that his pedantry is rather "low stakes."
But he makes an important point on the correct representations on the history of media through film.
Nicholson pointed out that some papers during the Victorian era, whether they were low-brow rags or more cultured publications, were illustrated.
He also pointed out some other interesting facts. Like the idea of interviews, back in the day, were considered an invasion of privacy.
People started sharing some other ridiculous newspaper props from films.
To which Dr. Nicholson scoffed at.
He ultimately provided a link to a resource of actual Victorian publications, for fellow nerds (and perhaps new converts) who want to see first-hand what print media was like back then.
Which got some people wishing for new Twitter features.
I'd like all of my memes converted to Victorian era illustrations, if possible.