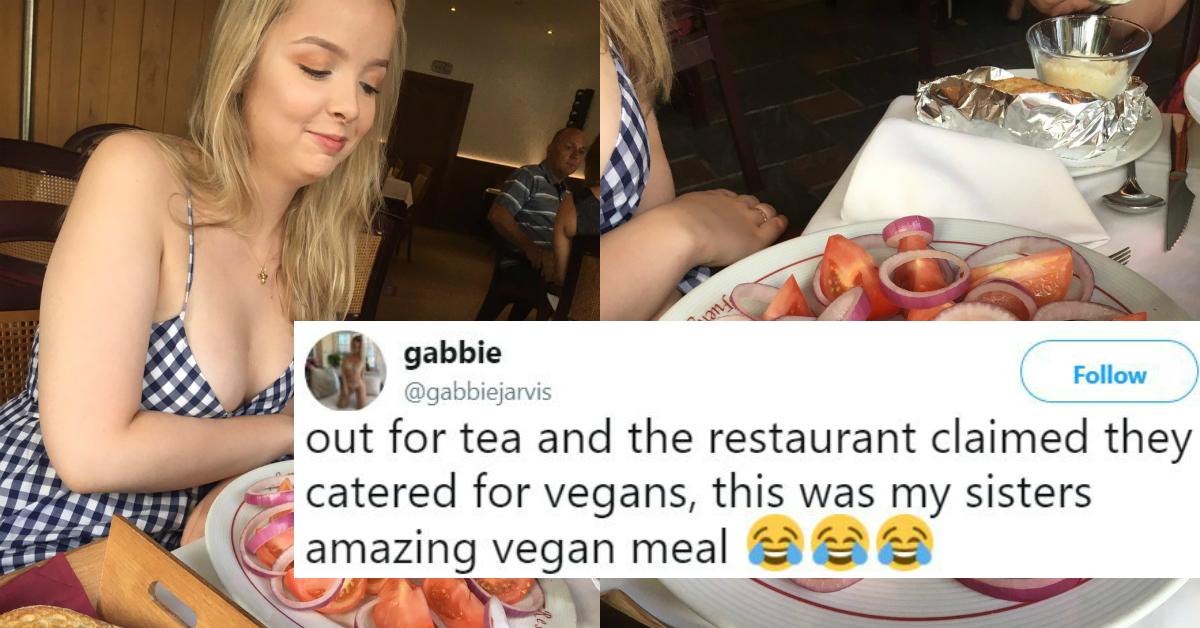 This Restaurant's Idea Of A 'Vegan Meal' Has Twitter In An Uproar
By Mustafa Gatollari
When you have special dietary restrictions, eating out can be tricky. Oftentimes people are forced to eat before they head out and just grab a drink or small salad when they're out with their friends because finding a restaurant that actually makes meals that'll fill you up is a struggle.
So if you do find an eating establishment that boasts it makes meals that fit within your diet, you get excited.
Unless you're a vegan eating out at this restaurant in Malaga, Spain.
Gabbie Jarvis was travelling abroad with her sister when they were looking for a place to eat. Gabbie's sister is vegan, so they were happy to find a restaurant that claimed to serve up vegan options for its customers. Their idea of a vegan meal, however, was a sliced raw tomato topped with raw onions.
According to Mashable, Gabbie liked the restaurant and still plans on returning there with her sister, despite their lame vegan option. If you're wondering how much they charged for that "meal"...
Which is $7-$10. Would you pay that much for a tomato and onion?
If you are worried about whether or not Gabbie's sister had proper sustenance on her vacation, fear not.
And because it was a post about vegan food, people started chirping up with the vegan and vegetarian jokes.
Others were just shaking their head at the meal.
Some even shared their own order horror stories.
How would have you reacted?