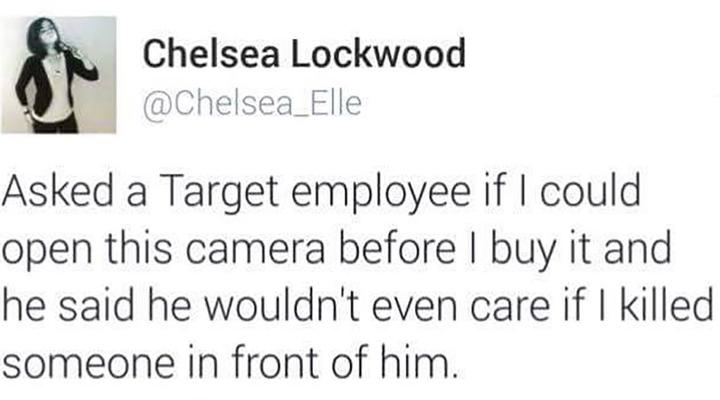 25 Tweets That Are Way Too Real If You've Ever Worked Retail
By Mark Pygas

Updated
Ah, retail. Where teenagers go to earn minimum wage and have their dreams and hopes crushed by the corporate machine. We've all had run ins with bizarre customers, making these tweets far too relatable for comfort… 
1.  YOU DON'T KNOW ME! I'M NOT HERE FOR YOUR COMFORT!
2.  Please let this end soon. I can't fake smile forever.
3.  Never heard that one before. You should try stand-up.
4.  What can we do about it? We have zero authority.
5. Too real. And sort of unsettling...
Asked a Target employee if I could open this camera before I buy it and he said he wouldn't even care if I killed someone in front of him.

— Chelsea Lockwood (@Chelsea_Elle) March 10, 2014
6. "I am a generous God."
7. So like...always? Maybe I should just curl up into a ball on the floor.
8.  Didn't want to know you anyway. I don't need any more friends!
10.  Please just put it on my hand... I'm literally reaching out to you.
11. Do I look like a mathematician? Why are you trying to complicate my life?
12.  Mine was the broom closet.
15. Fire me, see if I care. 
16.  Ooh la la. But don't think you're getting a discount.
17. It's not some voodoo magic. Things don't always work. Life is messy.
20. Oh no, what will we ever do! You're the only reason we stay in business!
21. We're not forcing you to be here. You're free to go.
22. I'm sure you knew about the stains. 
23.  Every day. Who has time for a social life?
24.  I don't feel like talking to people today. If a customer really needs something, they can come find me.
25. PEACE OUT. I'm just trying to be friendly!