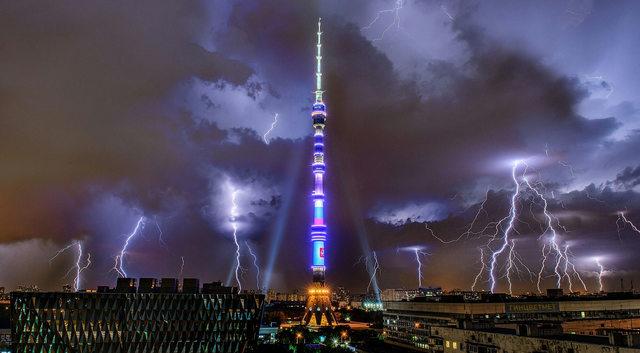 These Buildings From Around The World Look Like Evil Lairs Straight From Comics
By Zachary Brenner
Want to meet a bunch of costumed super villains? Sign up for a chance to win a trip to a certain "comic festival" and you could be surrounded by them. Enter here.
If I were a super villain, which I am not, I would have the dopest evil lair. It would be inside a volcano off the coast of Hawaii, or something. I don't know. I haven't thought too much about it, but I do know that their would be lions, and other big cats but mostly lions, guarding the entrance. And if someone were to get beyond them, they would they would have to face my robot army which, again, isn't real.

This might be a weird thing to think about, but it is important to plan ahead, which is why I think so many architects are building evil buildings. Everyone wants their own evil lair nowadays, but these fools have decided to build them in plain sight where anyone could photograph them. But who is going to go visit a lion infested volcano? No one, that's who! But again, I am not really building this thing so it doesn't really matter.

On an unrelated note, does anyone know a good lion salesman?
We Four Are Powered By The Moon!
Can you make it to the top?
You just know an evil CEO is on the top floor.
Is it just me, or are those buildings watching us?
This isn't even my final form!
Odds someone has been thrown off that balcony?
No vampires here. I promise!
Where Sauron would live if he were a businessman.
This building can blow up the moon
Boss said he wanted an upside building and you don't cross the boss
Something is going on in the clock tower...
Oh. Look. A normal human building. Nothing to see here.
Praise be the Chicken Man!
Something crooked is happening here
The giant wants to say hello.
Which is the evil half? Both.
Welcome to the Murder Silo!
This building is wearing an evil crown.
What is the most evil paint job?
I would not want to stand in that field.
Home of the most evil hobbit.
The weather is mine to command.
Party with Sauron, the Joker, Lex Luthor, and all the rest by entering our sweeps for San Diego's finest comic festival. Here are the details.