Bill O'Reilly got fired from Fox News on Wednesday, leading to an extended celebration on the Internet. The news also came out in time for Stephen Colbert, O'Reilly's long time rival, to put together a proper send-off.
On The Late Show Wednesday night, Colbert admitted to the studio audience that it would be inappropriate to gloat over O'Reilly losing his job—so he had the cameras turn away so he could presumably do a touchdown dance or something. Whatever it was, the audience went wild. But for us viewers at home, Colbert planned a very special treat. He brought back 'Stephen Colbert,' the character that shares his name from The Colbert Report.
'Stephen Colbert' was a conservative blowhard who Colbert says was largely based on O'Reilly. Since The Colbert Report ended, he has apparently been living in a cabin with Jon Stewart, and he warmly invited O'Reilly to join him. The whole thing starts at about minute 4, after Colbert gets a few other knocks in:
There are, of course, still plenty of people not celebrating and who seem to think that Bill O'Reilly's troubles are all part of some wacky leftist conspiracy, rather than his own actions:
Yes, much easier to believe many women are crazy than one man is a serial sexual harasser. Plus, as Colbert points out, O'Reilly will probably be fine. Donald Trump is President of the United States, after all! And he loves his job, getting to host the Patriots at the White House and all. Colbert even shared a picture of the event: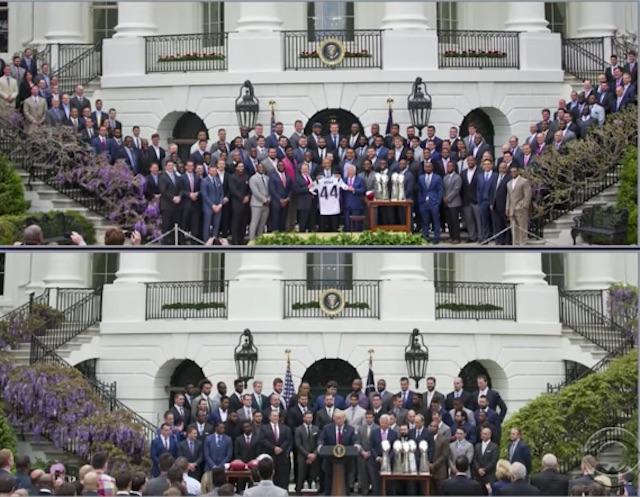 Actually, that's Obama hosting Super Bowl winners in the top image, Trump on the bottom. At least the turnout for Trump is consistent. Either was it was nice to see the old Stephen Colbert return one last time.