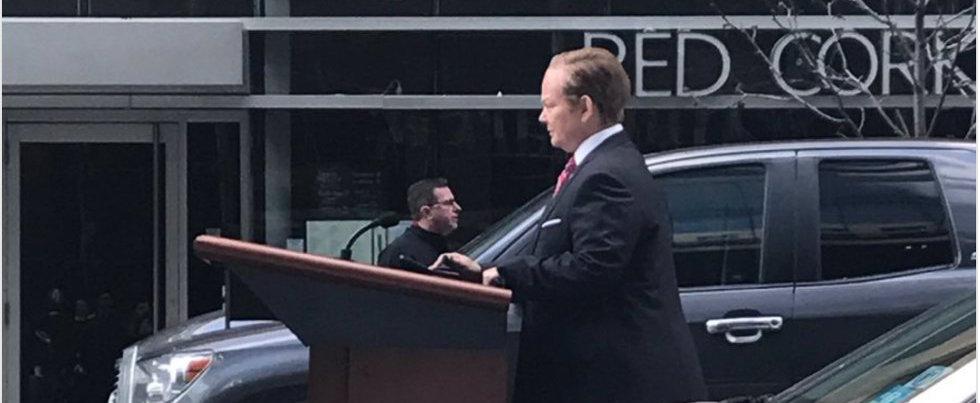 Melissa McCarthy Is Riding Around Manhattan On Sean Spicer's Podium
By Zachary Brenner
Trump's approval rating might be at an all time low, but at least there's one bright side to all of this insanity: the jokes. And it's not always Trump himself who provide them, more times than not his press secretary Sean Spicer provides late night tv enough jokes to supply them forever. Unfortunately for Sean -- Trump is not a fan of him being mocked, which probably won't bode well for him in the long run.
Sean Spicer has already had quite the week. Between seemingly hiding in the bushes to avoid talking to reports (which, as a reminder, is his job) and having to explain what I view as insanity (which, again, is his job), it is safe to assume that Mr. Spicer is looking forward to the weekend. What could possibly bring him down?

Oh, right. Melissa McCarthy is hosting Saturday Night Live this weekend, isn't she? A huge fan favorite is actress Melissa McCarthy's portrayal of the always "bullish" and just plain awful Sean Spicer. So when she finally brought the character back to SNL, people were very, very happy.

McCarthy does a pretty spot-on Sean Spicer impression and there's no question that she'll be bringing that back this weekend. In fact, some Manhattanites have spotted her riding on character Sean Spicer's podium through the streets of New York for what is most likely a pre-recorded sketch that will air on Saturday.
Needless to say, I am curious. Is SNL's Sean Spicer on the run now?
Follow up, is the actual Sean Spicer on the run now? Wouldn't surprise me at this point. After all, who could blame him? He's been caught lying more times than OJ Simpson. We're surprised he hasn't just thrown in the towel at this point but i guess props to him for persevering?