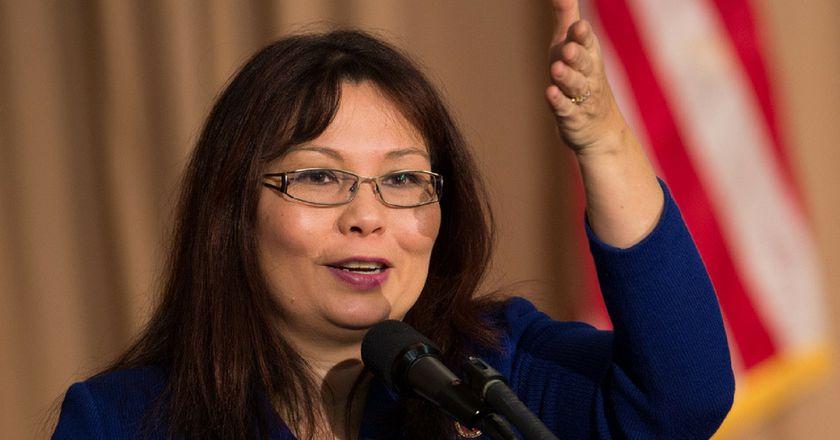 Senator Tammy Duckworth Shares Selfie After Breaking Her Leg During A Workout
By Brian Skellenger
WARNING: The photo in this article may be AWESOME.
Usually a photo of a broken leg could be unsettling at best, and gruesome at worst. But Senator Tammy Duckworth from Illinois just proved that a broken leg can be hilarious.
For those unfamiliar with Duckworth, she's a former U.S. Army helicopter pilot who lost both legs in 2004 after a her helicopter was shot down over Iraq. She now wears prosthetic legs. Ones that, by her own admission, don't hurt when she breaks them.
Clearly a badass woman with a sense of humor, Duckworth tweeted: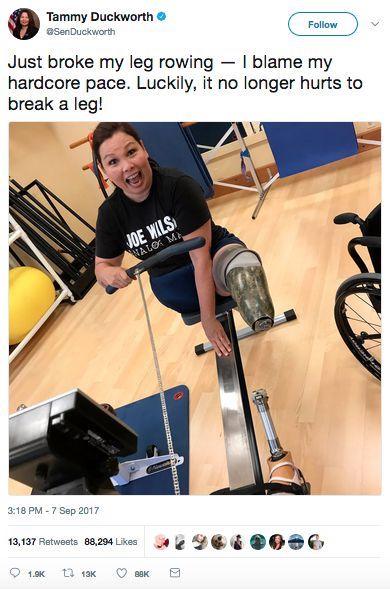 Twitter was impressed, not just by the fact that Duckworth was keeping up such a frenetic pace after losing both of her legs, but also because she had such a sense of humor about accidentally breaking an expensive prosthetic leg.
But seriously how fast and hard was she going on the rowing machine that it'd break the metal piece of a prosthetic leg? It doesn't look like something that easily comes apart or twists off.
Others were saying that Duckworth was an inspiration, and not just for her service in the military and government, but because of her intense workout ethic as well. I have to admit if I didn't have any legs myself, I don't know if I could muster the courage to get out and work out, but Duckworth's got the heart of a champion.
It's refreshing to see a politician with a visible disability take a moment that could've been humiliating with stride. She found the positive in it and shared the photo with her constituents. Although it makes for a great viral photo, it also shows that Duckworthy's a savvy politician as well.
H/T: The Hill, Twitter, Women's Health