Dealing with a break-up is never easy and people have different coping mechanisms.
Whenever I've gone through a split, I found hitting the gym harder than usual and cleaning up my diet helped put me in a good frame of mind. Usually I'm so upset that I don't want to eat in the first place, and with all of the free time I have, those extra hours I put into working out came easily.
It might not be the healthiest way to cope, despite the obvious benefit of having a trimmer bod, and I probably would've had a better time with my break-ups if I had a sense of humor about being dumped or doing the dumping.
Like this New Zealand woman did when she penned a hilariously descriptive Trade Me (like craigslist) post auctioning off her wedding dress, which, as the item description indicates, she did after divorcing her husband.
Wedding dress for sale - worn once by mistake!
Please help remove this dress from my life, it no longer means anything to me.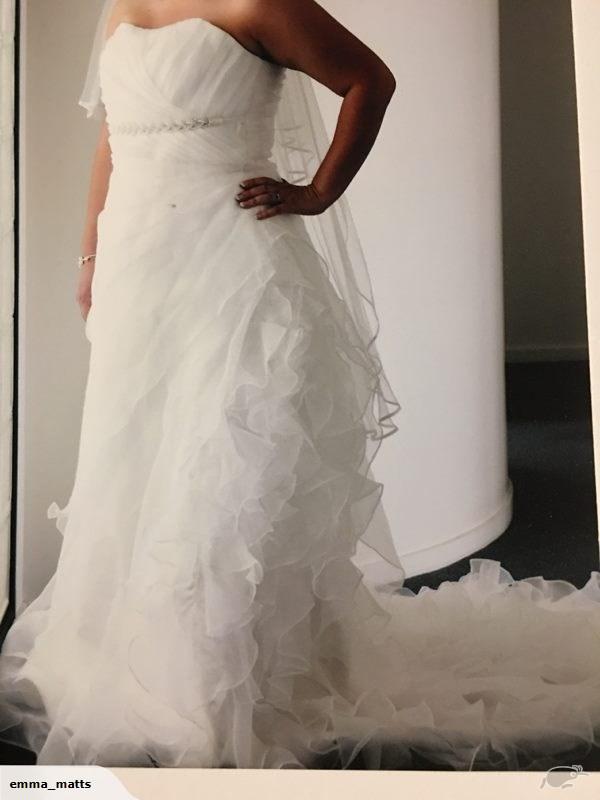 It is in excellent condition - unlike my marriage - Pretty much brand new and ready for a legit wedding after a practise run back in 2013. This stunning off white gown would fit a 12-16 as it has a lace up back so very versatile it comes with a certificate of authenticity and I have personally hand-washed the bad luck out of it! More than welcome to come try on and give it a twirl to make sure it fits and suits you. Cannot provide measurements as this was custom made for a little girl who thought she deserved less than what she was worth and she is now a strong woman - cannot measure up.
It looks stunning on, enough so that it will distract you and your guests from the fact that you are marrying a compulsive liar. Also great evening wear if you enjoy a night out and want people to buy you drinks or would be an excellent outfit choice for house cleaning and dishes (if Disney role play is your thing).

It is made from chiffon and is A-Line with side ruffles. It has an internal back strap (with being a strapless the added support to stay up alone is priceless) and has a beautiful belt added for a touch a sparkle. The back is lace tie so can be adjustable if you fluctuate in size which again is an added bonus!
I would ideally like over $300 for this dress, as this would pay for a Years gym member ship for me to loose the kilos I put on from such a miserable marriage - either that or a decent night out on the wines, both are needed - so make an offer!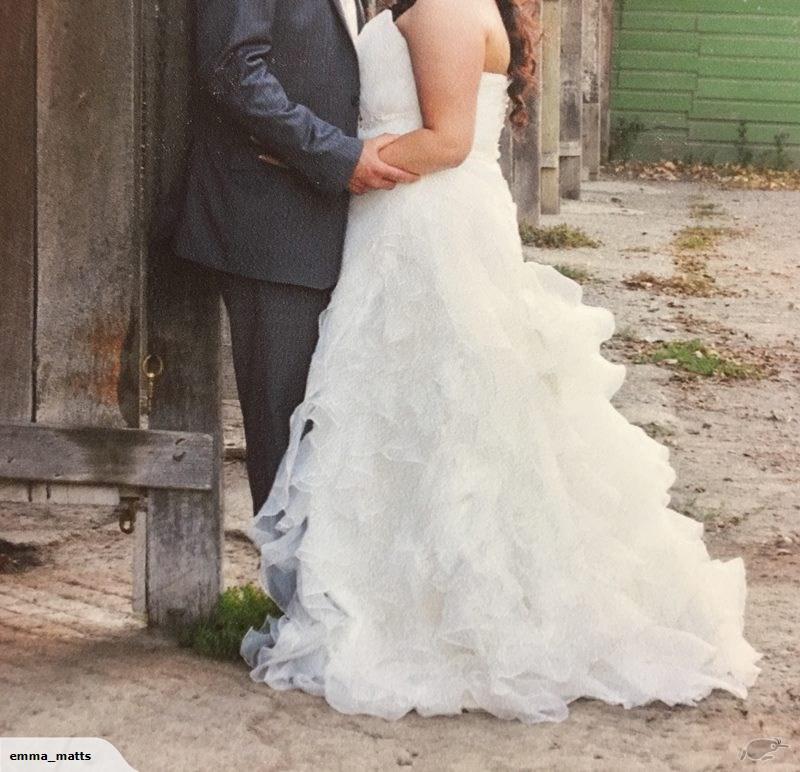 Happy to also provide pictures of my shoes that I can chuck in for a good price, those aren't needed anymore either because I walked away with the feet I was born with and will keep moving forward with those (keeping the vail for the 'out of toilet paper' emergencys).
Please ask if you have any questions.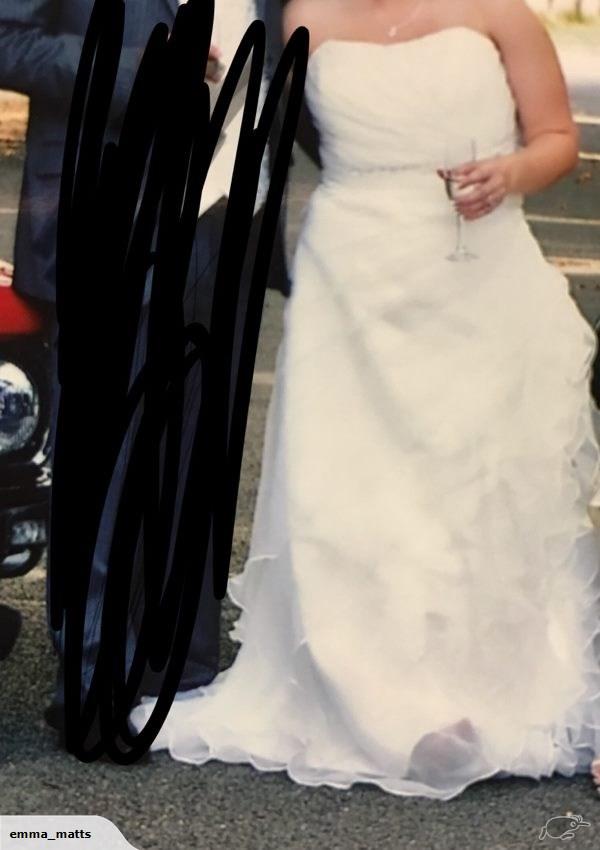 NOTE: Apologies for the photos some of these I have lost around 90kgs if baggage.
Pick up Masterton, Wairarapa.
That's a pretty savage recap of the relationship and what she thinks of her ex.
As of now, the dress is sitting on a $665 AUS bid, and the poster's unfortunately been forced to make comments on the dress private, as media outlets kept bugging her about the ordeal.
Seller comment: Thank you everyone for your much appreciated comments and questions. Sadly the NZ media have taken my responses and your questions on this auction and used them against our wishes as direct "quotations" from myself so for my safety these will no longer be viewed, I have declined media comment as the focus is the auction and moving in with my life :) all I have to say is in this auction.6:32 am, Thu 11 Jan
Seller comment: I do get notifications in my inbox of your messages and im overwhelmed by the love and support out there for this auction and my future to be successful. Many thanks xx 6:32 am, Thu 11 Jan
This isn't the first time women have flocked to private seller sites to offload wedding dresses when their relationships didn't pan out.
Like this guy was put on blast by his fiance after he allegedly cheated on her.
Or this other woman who had a zinger for her own relationship in this candid wedding dress advertisement.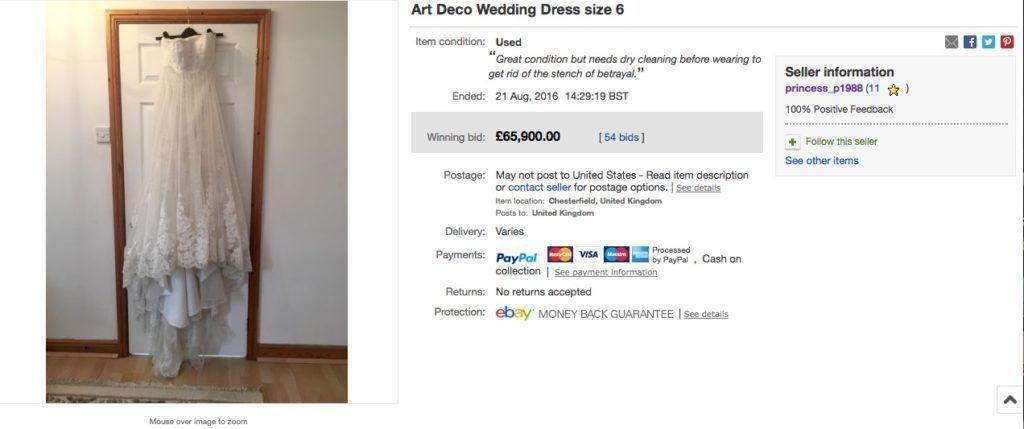 Her ex-husband eventually came out and gave his side of the story and the two ended things amicably. In fact, he even praised her blog and and industriousness in turning her own personal heartbreak into a positive.
So it's nice to see that not all break-ups end with heaping spoonfuls of bitterness and loathing. I mean most of them do, but it doesn't have to be that way. Right?