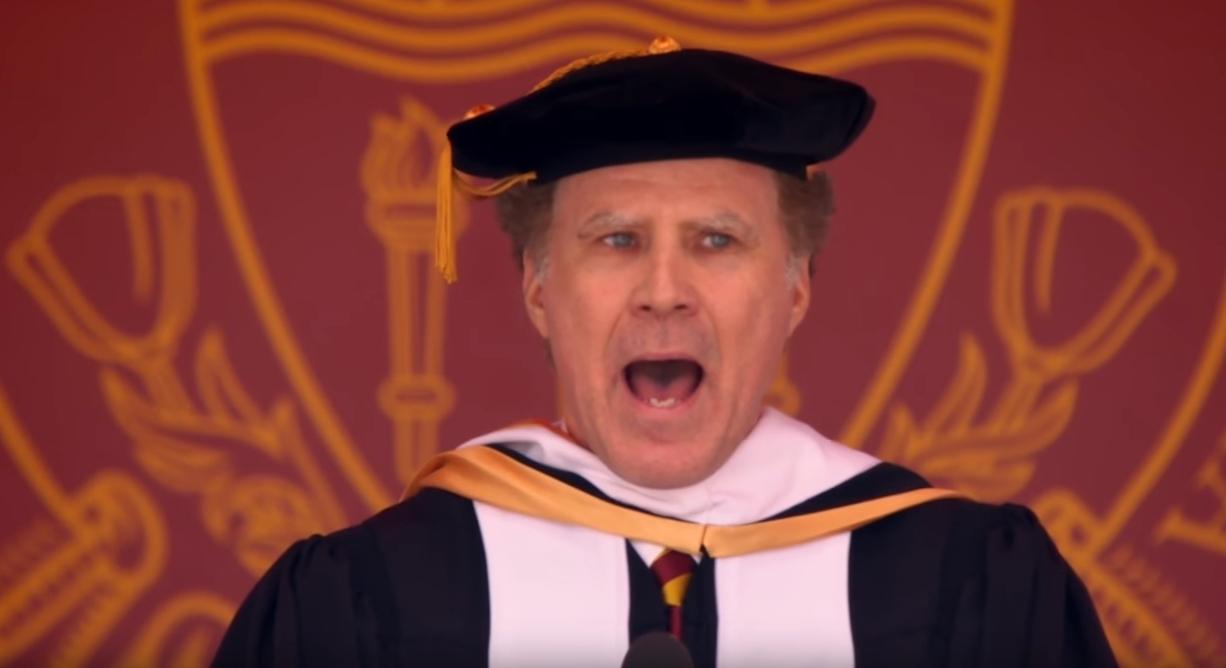 Will Ferrell Serenades The USC Graduating Class Like It Was The Catalina Wine Mixer
By Mark Pygas
Will Ferrell spoke gave a commencement address at the University of Southern California on Friday and did something that probably shocked just about everyone who was attending. But hey, that's what Will Ferrell does, right?
The star, who graduated from USC in 1990 with a degree in sports information, despite only having $20 to his name, was luminary for the graduating class of 2017. He also received an honorary doctorate, alongside others like a spinal surgeon, Oscar winner Helen Mirren and a pioneering AIDS researcher. A pretty cool tribute for the handful of guests there.
"And then there's me," he joked. "Will Ferrell, whose achievements include running naked through the city of Montrose in 'Old School.'...I think my fellow doctorates would agree, based on our achievements, we are all on equal footing."
Ferrel went on to say that he will now force his wife and three sons to refer to him as Dr. Ferrell, and "there will be no exceptions." We don't blame him.
But perhaps the funniest moment of the speech was when Ferrel assured the students that they would never be alone, and serenaded them with a rendition of 'I Will Always Love You.' It will make any fans of Step Brothers instantly feel like they were at the Catalina Wine Mixer:
But Ferrel did offer some more solid advice:
"Yes, I was afraid. You're never not afraid. I'm still afraid. My fear of failure never approached in magnitude my fear of 'What if? What if I never tried at all?'"
"Trust your gut. Keep throwing darts at the dart board. Don't listen to the critics, and you will figure it out."
And if all else fails, "imagine me. Literally picture my face, singing this song gently into your ear." It's just too perfect. If you've ever loved step brothers or know someone who does, be sure to show them this!
More From Distractify
.

LOL

From giant tubs of Nutella to barrels of whiskey, here's everything Costco offers that can sit proudly beside your pallet of freeze-dried jerky.