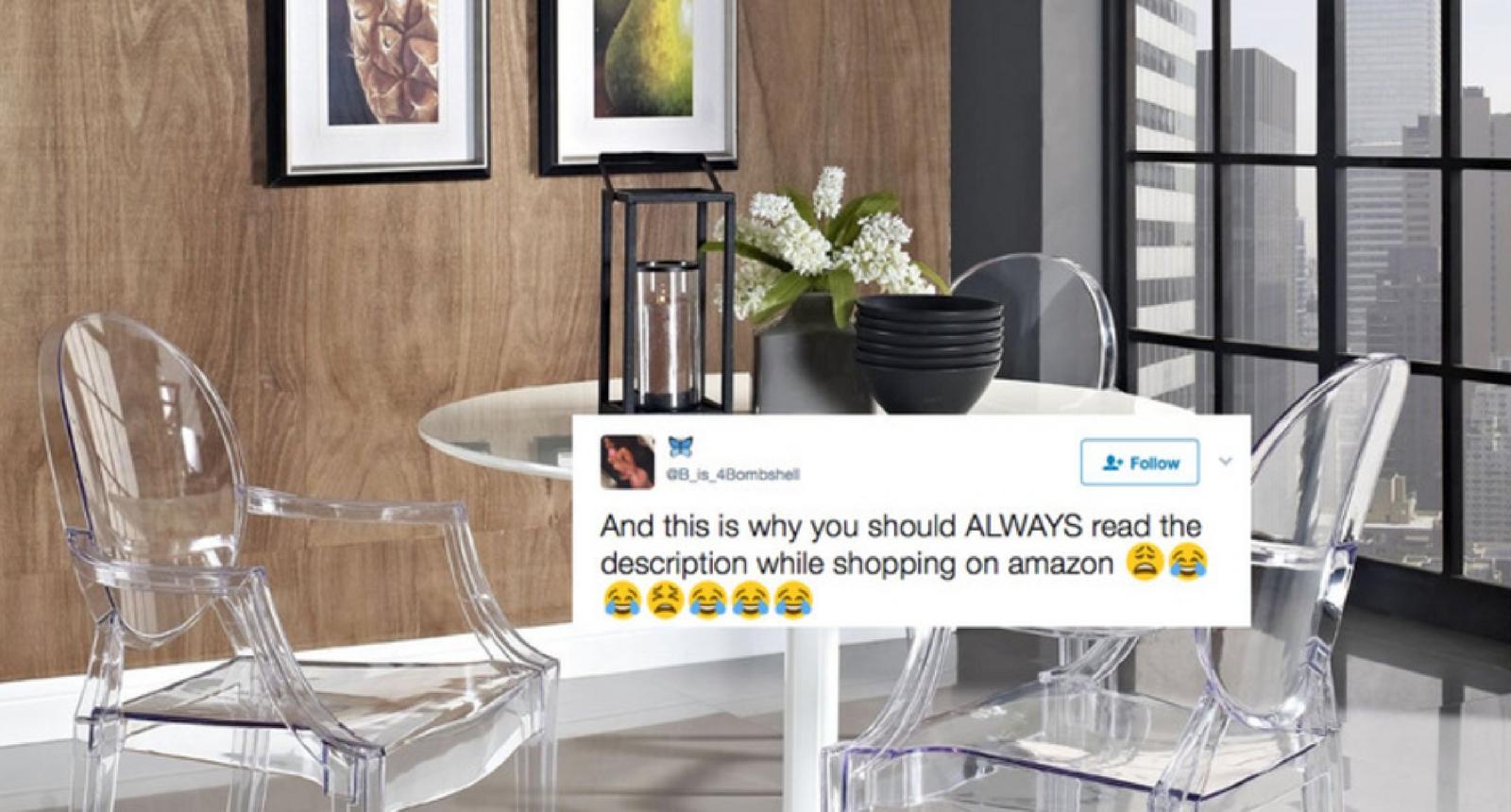 A Woman Didn't Read The Details About A Chair She Bought Online, And People Can't Stop Laughing
You really need to pay attention to the item descriptions when buying something online these days. Images can be pretty misleading. I remember an old episode of Judge Judy where a woman bought (or rather thought she bought) an iPhone off of eBay only to find out when she got the box that the listing was for a picture of an iPhone. She had to go to court to get her money back, but it served as a warning for me from that day on to always read the item description so I'd be able to avoid going on television to reclaim my money from a website with a bad return policy. Luckily for this woman, Amazon has a great one.
Article continues below advertisement
25-year-old customer, Blaque, hastily purchased a crystal-clear chair on Amazon that wound up not being what she expected. She should've read the product description.
The aspiring hair stylist from Virginia planned on dedicating a corner of her apartment to establish a makeshift beauty parlor. She went shopping online, filling her virtual cart with odds and ends.
Article continues below advertisement
When she saw the "Modway Miniature Casper Novelty Chair In Clear" as an add-on item for $4.29, all she saw was a bargain. "So me being the person I am, I just clicked it, didn't read not one review or even the description for that matter."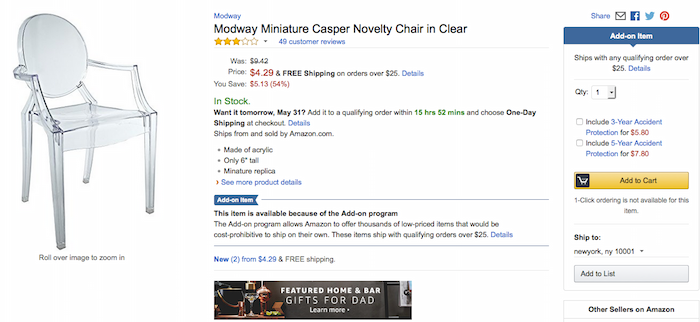 Article continues below advertisement
"I spent so much that day, so I thought I really got a deal because it was an 'add-on' and Amazon is known for great deal [sic]," said Blaque. "So it was believable. I literally just clicked add."
When the package arrived on May 23, it was noticeably smaller than expected. But she just assumed some assembly was required for her 'miniature' chair. However, like a nesting doll, a smaller package was revealed inside the shipping box.
Article continues below advertisement
She told Buzzfeed, "I literally busted out laughing tears and all because I couldn't believe I bought that." This is what she found.
Article continues below advertisement
Other consumers commiserated with Blaque on their embarrassing purchases.
Article continues below advertisement
Article continues below advertisement
One even made a suggestion in case she decided to keep the miniature product.
Article continues below advertisement
Or "Maybe it'll end up being a business card holder," Blaque joked. She did decide to hold onto it, and the accidental acquisition is sitting on top of her desk to serve as a reminder. "[It was] totally not Amazon's fault at all. It was properly advertised, I just didn't read."
Caveat emptor, everybody! Let that lesson sit for a bit.