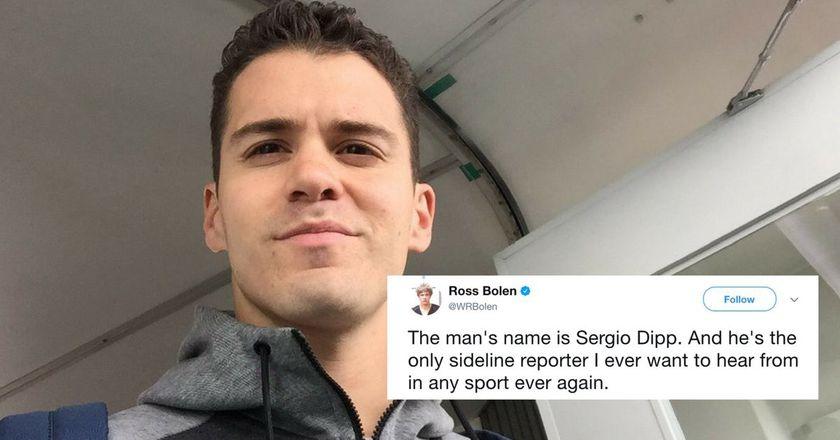 ESPN Sideline Reporter Makes Awkward Announcement, And Sports Fans Almost Lost It
By Collin Gossel
The best part of this week's Monday Night Football wasn't the football. It was, in fact, first time sideline correspondent Sergio Dipp, whose awkward, obviously flustered commentary has skyrocketed him into all our hearts. The clip of Sergio, like a great episode of The Office, is so awkward that you love it unconditionally. Don't believe me?
Take a look: The cameras start rolling and he says to the camera, "Folks, it's a pleasure to be with you guys, here on the field, from up close, just watching Coach Vance Joseph from here, you watch him now on the screen. His diversity and his background is helping him a lot tonight. Quarterback at Colorado, defensive back in the NFL, and here he is, having the time of his life this night, making his head coaching debut."
We all know what it is like to start a new job — and can probably relate to what he's going through; still, most of us aren't seen by millions of people when we find ourselves feeling anxious as we start a new career.
We can Dipp was clearly a little bit nervous:
Even though it may not be for the reasons he would have hoped, he clearly made a first impression and the public has spoken: People can't wait for Sergio's next sideline report:
Dipp's fame is going to change the way we live forever:
ESPN knows EXACTLY what they're doing:
Sergio is still learning about his new life, but we have no doubt he'll take to it with gusto:
Sergio actually has a pretty great story, watch him below.
He's clearly very moved by the whole experience.
More From Distractify
.

LOL

From giant tubs of Nutella to barrels of whiskey, here's everything Costco offers that can sit proudly beside your pallet of freeze-dried jerky.