If there ever was an actor who earned the title of "Absolute Gem" on social media, it's Ryan Reynolds. The Deadpool star is constantly hitting us with amazing social media gems. And when he's not dissing on Wolverine's Hugh Jackman, he's often throwing some shade at his wife. Obviously it's all in good fun but we're totally here for it because his jokes are top notch.
The Deadpool star Ryan Reynolds is also a well known Hollywood family man, raising two daughters with his wife, actress Blake Lively.
So some may have been surprised by his snarky tweet on Monday, trolling his family on the morning of his 41st birthday: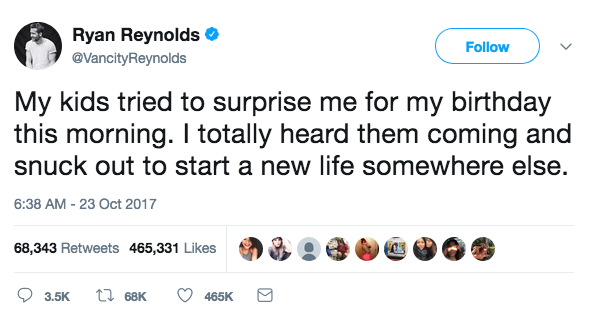 And Twitter was so here for it. It was just way too good to pass up.
But Blake Lively got her revenge with this ultimate birthday burn. People loved Lively's savagery and ability to dish out the same sweet photo-cropping revenge against her hubby once his birthday rolled around.
I mean...
Now you might've remembered this incredible birthday wish Reynolds gave to wife Blake Lively on Twitter that had the internet cackling with joy. It was just too good of a reversal to not laugh at. Maybe he knows what it's like to get owned in front of thousands on the net.
Happy Birthday, Mr. Deadpool! Good luck in your new life! We can't wait to see what Reynold's response will be. For now, though, Lively's definitely winning the Happy Birthday war. Maybe next year he'll come back even stronger.
The man is a master of sarcasm and sincere-cynicism, did you expect him to give a standard, Happy Birthday tweet to his significant other? If you thought that, then you probably don't know Ryan Reynolds at all. He's just not your standard comedian and truly a master of coming up with clever ways to make us laugh.
More From Distractify
.

LOL

From giant tubs of Nutella to barrels of whiskey, here's everything Costco offers that can sit proudly beside your pallet of freeze-dried jerky.