This isn't Donald Trump's biggest gaffe on Twitter yet, but it is the latest.
Country music singer Lee Greenwood, who composed "God Bless the USA," celebrated a milestone the other day. Greenwood turned 75, and President Trump tried to join in the birthday wishes on Twitter.
The C0mmander-in-Chief tweeted: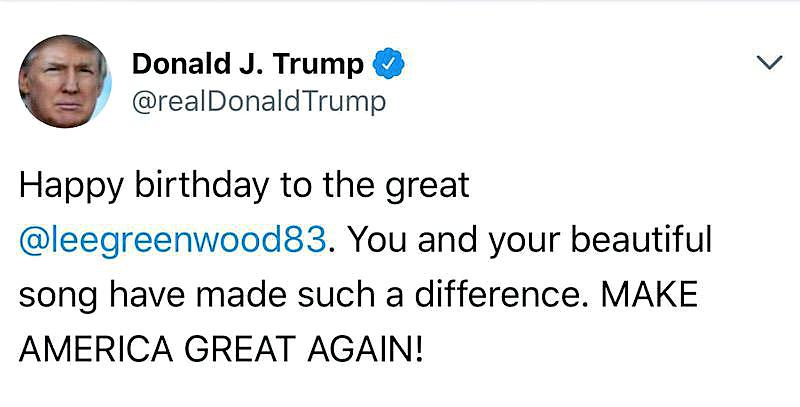 President Trump took time out of his busy day to send birthday wishes to one of the small handful of musicians who agreed to perform at his inauguration. And we mean a really really small handful. What a lovely, thoughtful gesture.
The only problem? He addressed his tweet to this Lee Greenwood:
It turns out @leegreenwood83 is a New York-based lawyer who prefers anti-Trump demonstrations to inaugurations and doesn't seem to be a fan of the 45th president. Awkward.
Trump deleted the tweet and reposted it to the proper Lee Greenwood within an hour:
But it was too late. Twitter had the receipts for both Trump and Fox News:
"Trump thanked Singer Lee Greenwood (God Bless The USA) today on Twitter, except it was the wrong 'Lee Greenwood'" one user wrote. "The 'Lee Greenwood' he actually thanked is an attorney who marched in the Anti-Muslim Ban Parade. Mr. Trump is intelligent and is a graduate of the Ivy League."
Twitter users had some fun with the Commander in Chief's gaffe:
Lee the lawyer had an exciting day, and Lee the singer still got his birthday wishes. God bless the U.S.A. indeed.
More From Distractify
.

LOL

From giant tubs of Nutella to barrels of whiskey, here's everything Costco offers that can sit proudly beside your pallet of freeze-dried jerky.