This Santa Can Deadlift A Lot More Than Your Presents
This Santa doppelgänger can lift an incredible amount of weight — just check out his muscles!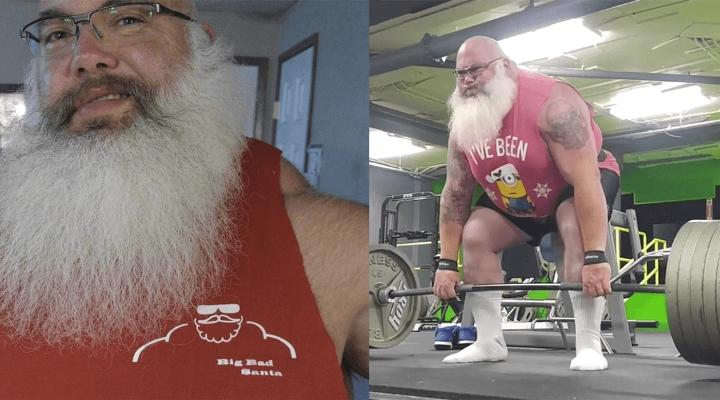 We all know Santa's a big dude, but that doesn't mean we should make any assumptions about his gym habits. The guy must work out; climbing down chimneys carrying our presents requires some intense physical labor.
As it turns out, Santa may be in much better shape than we ever gave him credit for...
Meet Albie Mushaney, who is better known by his Instagram name: Big Bad Santa.
Article continues below advertisement
The married father of five is documenting his journey to conquer type 2 diabetes and, as his Facebook page states, "to become the world's strongest Santa."
"I was terribly out of shape, obese, getting beat up by diabetes and I realized, you know, if I want to see my kids graduate from high school, I was going to have to lose some weight and get in shape," he shared.
In case you were wondering how Santa trains for carrying presents for every kid in the world, it looks something like this:
Article continues below advertisement
Big Bad Santa's Instagram is racking up a respectable following (19,000 and counting), just in time for the holidays — and his videos are getting thousands of views. But going to do the gym isn't Mushaney's only priority. The fitness junkie launched Operation Big Bad Santa, which raises money to buy Christmas presents for children of wounded vets. We'd say someone's getting on the "nice" list this year.
Article continues below advertisement
....Since seeing Santa work out (especially lifting 650 pounds) is a pretty rare sight, after all.
Who knew that Santa had so many talents?
Article continues below advertisement
He can make and deliver presents AND he can lift vehicles. With kegs. NBD.
Suddenly, we're even more determined to end up on the nice list this year. The naughty list could have some serious consequences.
Article continues below advertisement
...And don't forget to add the protein powder to the cookies and milk.
More from Distractify