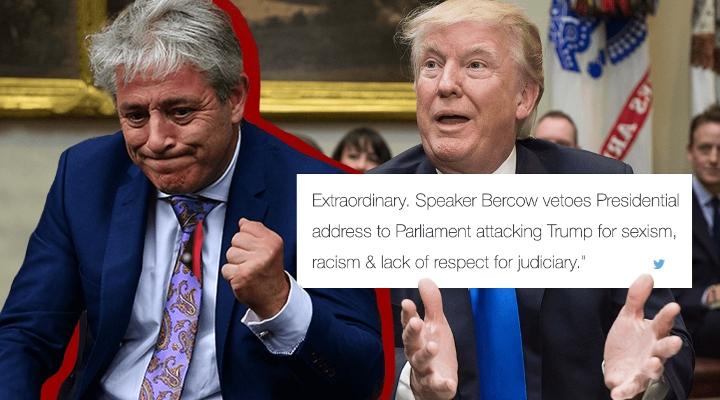 Donald Trump Blocked From Addressing British Parliament Because He's 'Racist'
By Mark Pygas
President Donald Trump's "special relationship" with the United Kingdom could be in trouble after the Speaker of Britain's House of Commons said that he would be "strongly opposed" to Trump giving a speech to Parliament when he visits the country later this year.
John Bercow, who moderates debates in Parliament, said that the tradition of foreign leaders addressing Parliament is "an earned honor" and not an "automatic right." He said he would not be extending an invitation to Donald Trump, in stark contrast with his invitation to Barack Obama in 2011.
The statement came as members of Parliament debated a petition to withdraw an invitation for Trump to make a state visit to the United Kingdom, which attracted nearly 2 million signatures. The British government has said that the invitation still stands despite their opposition to Trump's controversial "Muslim ban" which halted travel from seven Muslim-majority countries.
Bercow said that he had no control over Trump's visit to the United Kingdom, but would do all he could to stop Trump addressing Parliament because of his history of "racism and sexism."
As you can imagine, reactions on social media have been mixed. Many supported the decision.
While others pointed out that other world leaders with far more oppressive policies have been able to visit Parliament.
We await Donald Trump's inevitable tweet on the subject.