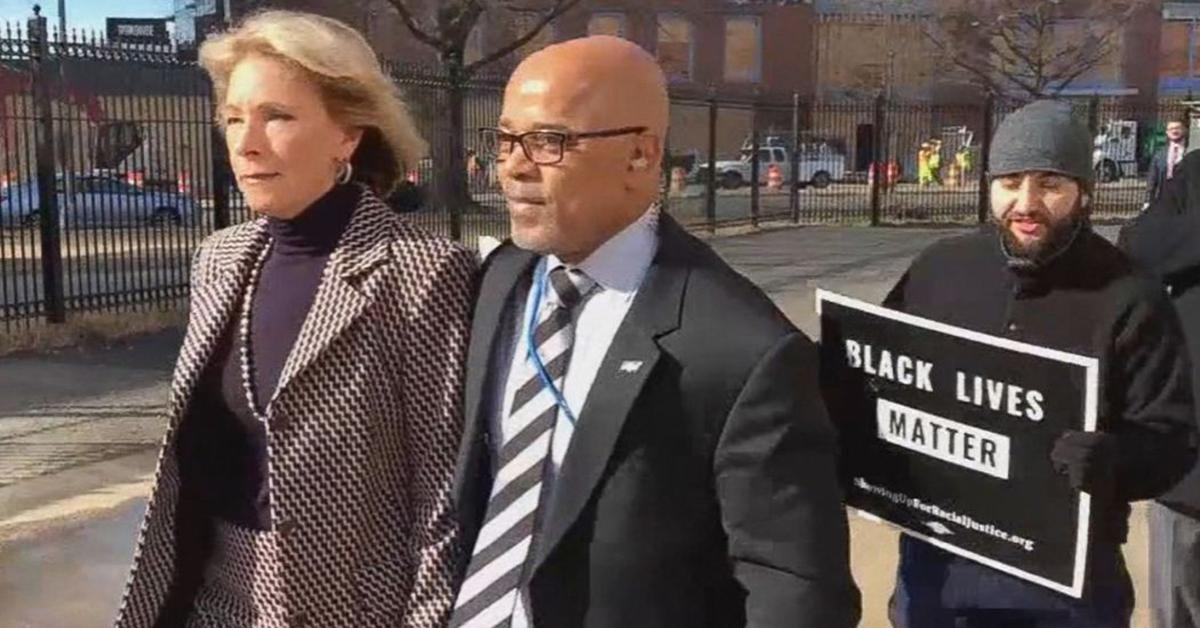 Betsy DeVos Was Blocked From Entering A School By Angry Parents And Teachers
By Mark Pygas
It's fair to say that Education Secretary Betsy DeVos isn't the favorite cabinet pick of the recently elected Donald Trump. She barely scraped past the Senate, with rebelling Republicans joining forces with Democrats to tie the vote at 50-50. Vice President Mike Pence was given the deciding vote, the first time ever a vice president has done so for a Cabinet nominee.
But many teachers and parents are worried that DeVos, who has donated millions to the Republican party, will increase the use of school vouchers and as a result, defund public schools. During her hearing, she also avoided a question on whether schools should be forced to make adaptations for children with disabilities.
And this discontent is no more obvious that on DeVos' first visit to a school since her confirmation. DeVos was set to visit Jefferson Middle School in Washington on Friday, but was forced to make a hasty retreat to her car after parents and teachers blocked her from entering.
"Keep giving money to senators and buying your way to the position," ABC reported one protester as shouting. As DeVos was whisked into her car by one of her staff, they continued: "I hope you're proud of yourself. Go back. Shame! Shame! Shame!"
The protest was organized by the Washington teachers union, and included teachers and parents.
According to the Washington Post, DeVos was later able to enter the school. DeVos declined to answer any questions from reporters, but issued the following statement:
"It was really wonderful to visit this school, and I look forward to many visits of many great public schools, both in D.C. and around the country. Thanks very much."
As you can imagine, her critics were pretty pleased with the scene.