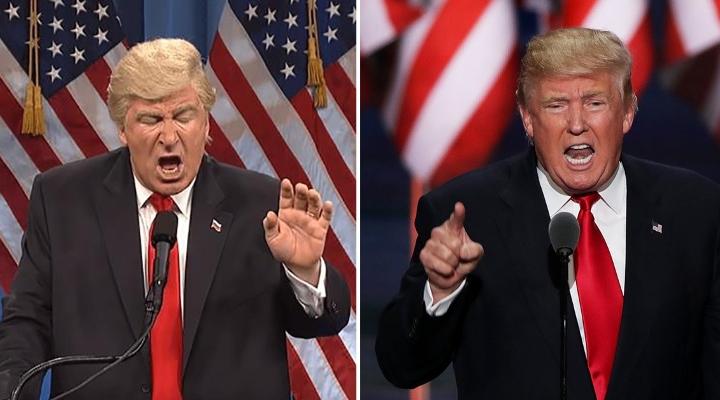 Newspaper Accidentally Uses Photo Of Alec Baldwin Instead Of Donald Trump
By Mark Pygas
It's fair to say that Alec Baldwin's impression of Donald Trump is one of the best things to happen to Saturday Night Live in a while. And it turns out that he's so convincing, a newspaper in the Dominican Republic accidentally used a photo of the actor instead of the president in an article discussing Trump's stance on Israeli settlements.
According to the Huffington Post, El Nacional issued a correction online after the screw up on Friday, but by then, the image was already circulating online. And Twitter users are loving it.
The paper stated the photo was sent to them by the Associated Press, correctly revealing that it was Alec Baldwin doing an impression of the president, but somehow, it accidentally made it into the paper.
I guess his impression is just that good.
Donald John Trump is the 45th and current President of the United States. Before taking office on January 20, 2017, having beat opponent Hillary Clinton in the electoral college but not the popular vote, Trump was a real estate mogul, and a former reality TV star.
Born in Queens, New York, in 1971 Trump became involved in large, profitable building projects in Manhattan, under the guidance of his father, real estate developer Fred Trump.
In 1980, Donald Trump opened the Grand Hyatt New York, making him the city's best-known developer.
In 2004, Trump began starring in The Apprentice, a hit NBC reality series, and later in a spin-off series, The Celebrity Apprentice.
In 2015, Trump announced his candidacy for president of the United States running as a Republican. Trump win a majority of the primaries and caucuses, becoming the official Republican candidate for president on July 19, 2016. That same November, Trump was elected the 45th President of the United States, after defeating Democratic candidate Hillary Clinton.