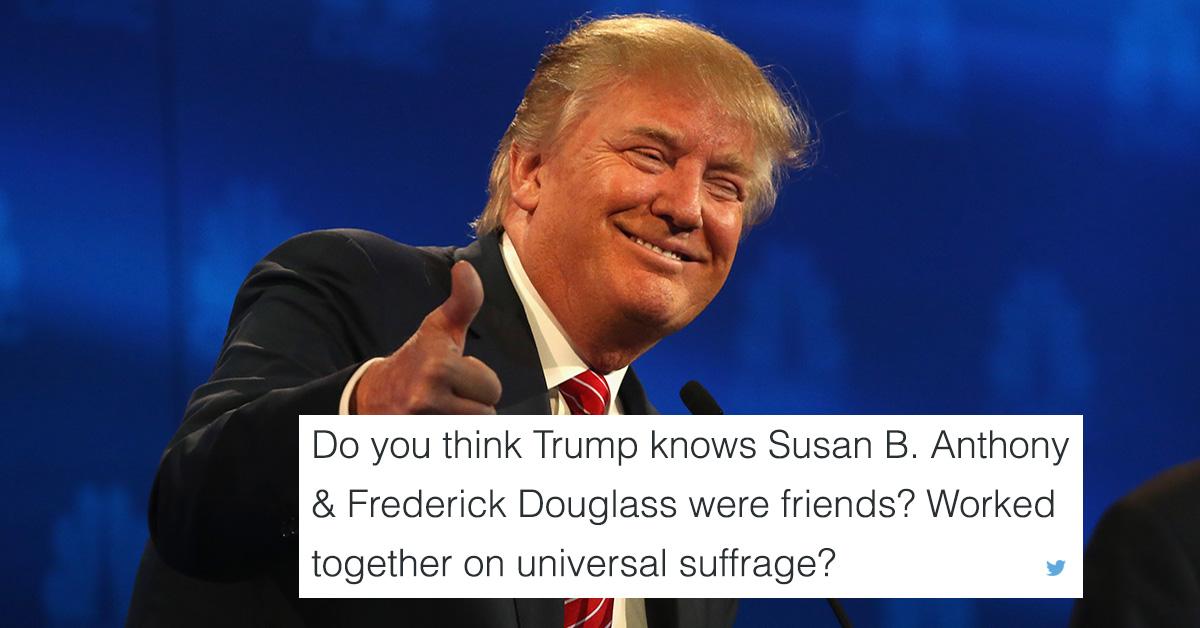 Twitter Roasts Donald Trump For Asking Women If They've Heard Of Susan B. Anthony
By Mark Pygas
President Donald Trump spoke at a women's empowerment panel at the White House on Wednesday evening, and started naming a number of women that he believes have changed the country. They included Abigail Adams, Harriet Tubman, and Susan B. Anthony.
But his speech got Twitter talking after he asked the group of women if they'd ever heard of Susan B. Anthony. Although the question appeared to have been asked in a joking manner, and was followed by the comment: "I'm shocked that you've heard of here," it still sparked fierce criticism online.
Even Chelsea Clinton got involved in it.
Others defended the President.
If there's one thing Donald Trump has learned today, it's that presidents probably shouldn't be sarcastic.
Donald John Trump is the 45th and current President of the United States. Before taking office on January 20, 2017, having beat opponent Hillary Clinton in the electoral college but not the popular vote, Trump was a real estate mogul, and a former reality TV star.
Born in Queens, New York, in 1971 Trump became involved in large, profitable building projects in Manhattan, under the guidance of his father, real estate developer Fred Trump.
In 1980, Donald Trump opened the Grand Hyatt New York, making him the city's best-known developer.
In 2004, Trump began starring in The Apprentice, a hit NBC reality series, and later in a spin-off series, The Celebrity Apprentice.
In 2015, Trump announced his candidacy for president of the United States running as a Republican. Trump win a majority of the primaries and caucuses, becoming the official Republican candidate for president on July 19, 2016. That same November, Trump was elected the 45th President of the United States, after defeating Democratic candidate Hillary Clinton.