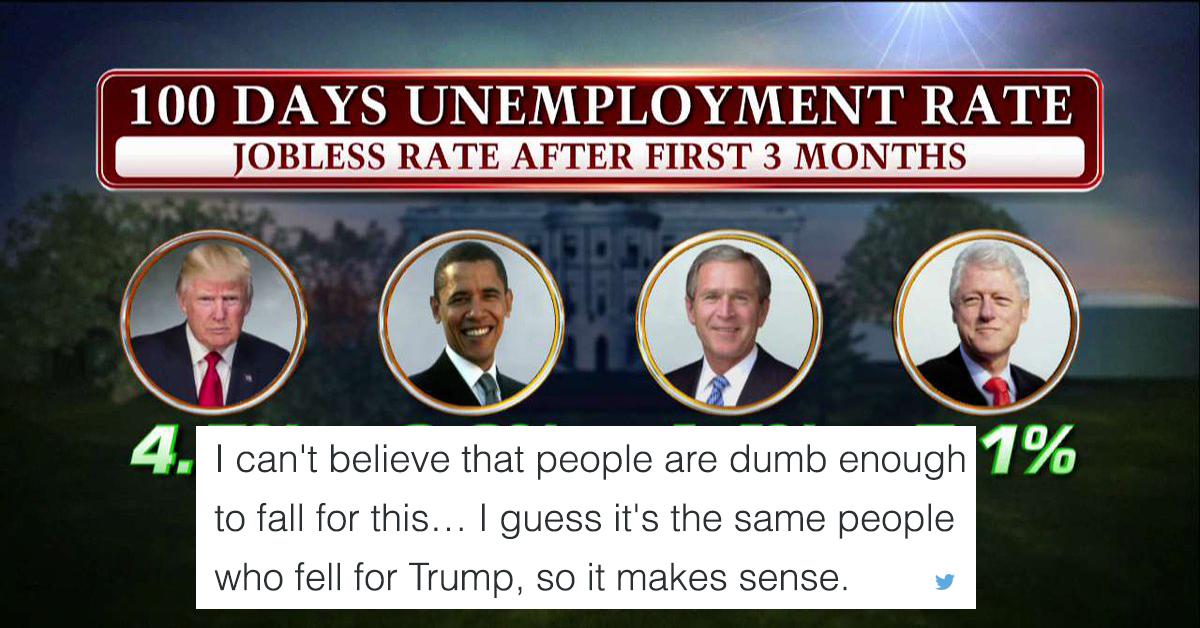 Fox Tweeted A Really Biased Trump-Obama Comparison And They're Getting Torn To Shreds
By Mark Pygas
Don't let the recent decision by FOX News to drop anchor Bill O'Reilly amid sexual harassment lawsuits change your opinion of them, they're still not a very reliable source for news. And yesterday, they gave the perfect example of why they shouldn't be trusted by tweeting out this comparison of the jobless rates after 100 days in office for the most recent four presidents.
Of course, the graphic doesn't mention that President Obama inherited an economy that was in free fall from the recession that occurred towards the end of George W. Bush's presidency. While President Clinton inherited a high unemployment rate from his predecessor, President George H. W. Bush.
It also fails to mention that by the 100 day mark, Presidents usually don't even have their entire cabinet in place, let alone a new budget. In short, the comparison is totally misleading without the context, and is obviously being used to shine a positive light on President Donald Trump, who inherited a pretty healthy economy.
And yes, Twitter did rip them apart for it.
It's good to see that they got called out on it.
Donald John Trump is the 45th and current President of the United States. Before taking office on January 20, 2017, having beat opponent Hillary Clinton in the electoral college but not the popular vote, Trump was a real estate mogul, and a former reality TV star.
Born in Queens, New York, in 1971 Trump became involved in large, profitable building projects in Manhattan, under the guidance of his father, real estate developer Fred Trump.
In 1980, Donald Trump opened the Grand Hyatt New York, making him the city's best-known developer.
In 2004, Trump began starring in The Apprentice, a hit NBC reality series, and later in a spin-off series, The Celebrity Apprentice.
In 2015, Trump announced his candidacy for president of the United States running as a Republican. Trump win a majority of the primaries and caucuses, becoming the official Republican candidate for president on July 19, 2016. That same November, Trump was elected the 45th President of the United States, after defeating Democratic candidate Hillary Clinton.