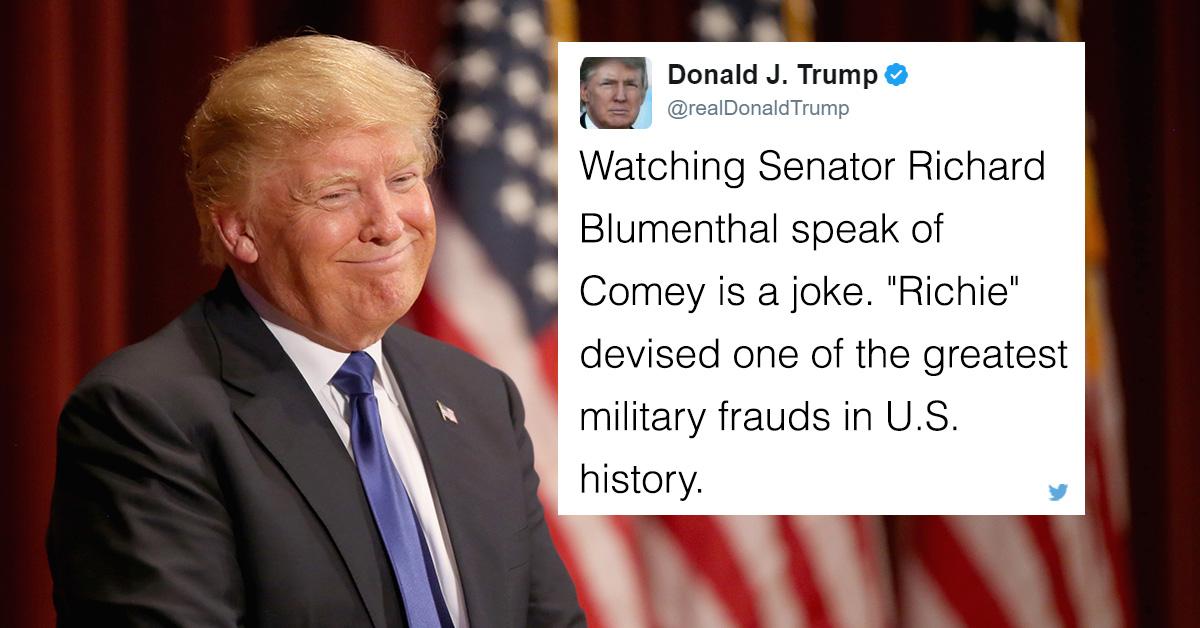 Trump Slams Senator For Dodging Vietnam War Draft Even Though He Did The Same Thing
By Mark Pygas
Last night, it was announced that the Trump administration had fired FBI Director James Comey. Deputy Attorney General Rod Rosenstein stated that decision was made because Comey had "usurped" the attorney general's authority when he made the announcement that the FBI was not recommending any charges against Democratic candidate Hillary Clinton after reopening her email investigation back in July 2016.
But the decision concerned many, since Comey was overseeing investigations into Russian involvement in the 2016 election and possible links to the Trump campaign. One of those concerned is a Democratic senator from Connecticut, Richard Blumenthal. Blumenthal appeared on MSNBC and CNN on Wednesday morning to call for a special prosecutor to investigate any connections.
And as you can imagine, President Trump wasn't happy...
Senator Blumenthal stated in public that he served in Vietnam on several occasions. But in 2010, a New York Times investigation discovered that he had never gone to war and instead received multiple military deferments. Blumenthal joined the Marine Corps Reserve in the 1970s and rose to the rank of sergeant, but never served overseas.
But there is some irony in President Trump's tweets. Trump received five deferments of his own and managed to avoid being drafted into the military during the Vietnam War. Four of them were for college, but in 1968, when Trump graduated, he received his fifth and final deferment for bone spurs in his heels. That's despite Trump playing football, tennis, and squash throughout college. Not surprising considering his track record but it's still mind blowing he'd even consider bringing it up considering most people know it's a fact.
As you can imagine, Twitter was all too eager to point this out.
Maybe not the best path of attack considering Trump literally did the same exact thing.