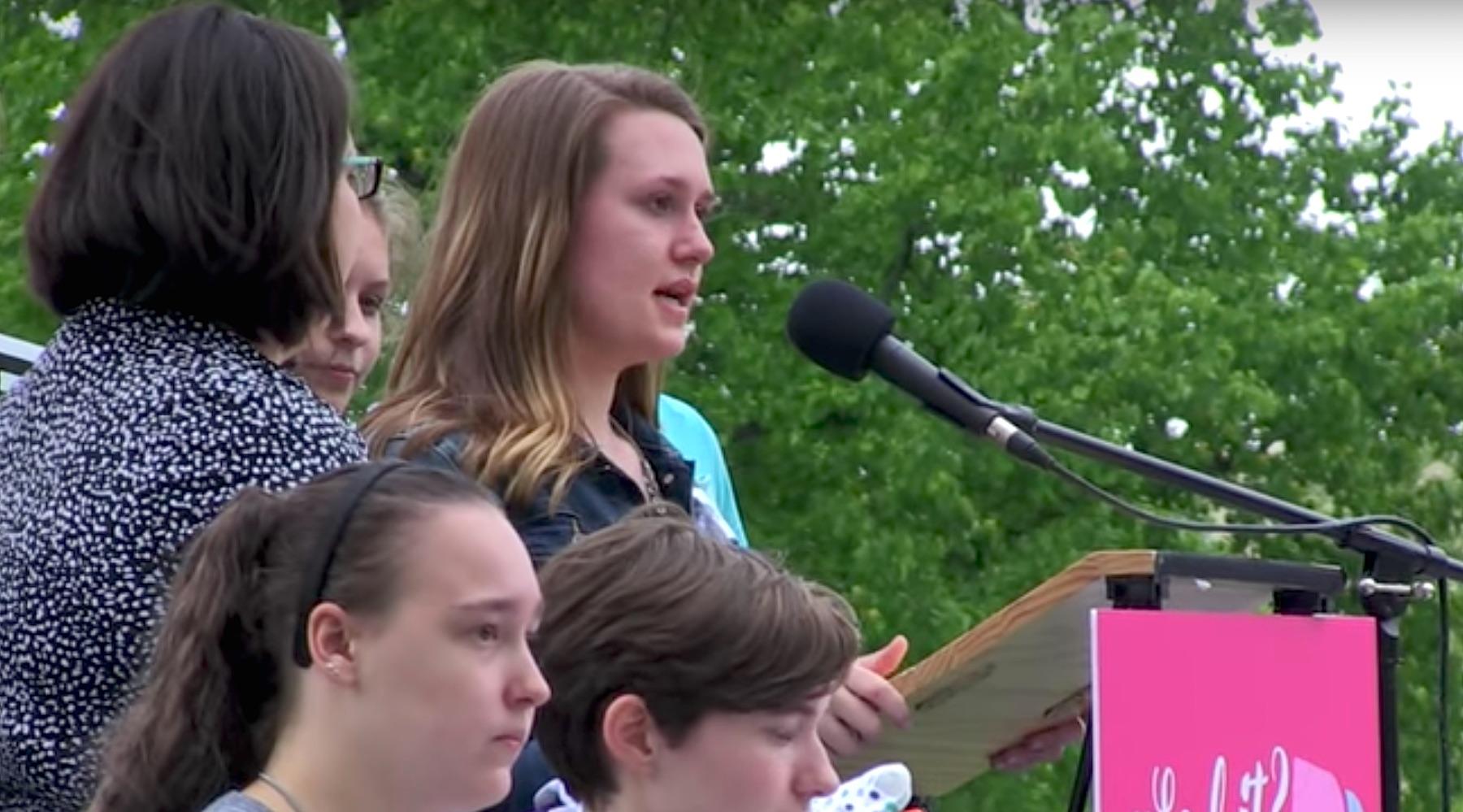 Pregnant Teen Barred From Walking In Graduation At Christian High School
By Aimee Lutkin
The New York Times recently did a profile on the contradictory case of Maddie Runkles, an 18-year-old Maryland high school student who has become the center of a controversy at the small private Christian Heritage Academy. Runkles is pregnant and vehemently anti-choice.
Obviously, for her the only option is to have her baby, and it's a decision she's proud of. But it also means she won't be allowed to walk in her own graduation ceremony.
Runkles has a 4.0 GPA, plays on the soccer team, and was on the student council, until she was removed, also because of her pregnancy. Runkles decided to make her situation public, and reached out to anti-choice group Students for Life, which attracted media attention everywhere.
It's a difficult case for the school board. As reported by the New York Times, Students at Heritage Academy are expected to abide by a "statement of faith" which includes the premise that "no intimate sexual activity be engaged in outside of the marriage commitment between a man and a woman."
Runkles has made the choice to carry her baby to term, and lost the respect and support of the community she's devoted so much time and energy to. Though Runkles might not see it this way, to many, her situation points out the hypocrisy of so many anti-choicers: they believe in life at all costs, but not in supporting a mother and child. To some, it feels like they'll protect your fetus, but not you.
To give Students For Life credit, they have vehemently defended Runkles, with their president Kristan Hawkins telling the NYT, "She made the courageous decision to choose life, and she definitely should not be shamed. There has got to be a way to treat a young woman who becomes pregnant in a graceful and loving way."
Rick Kempton, chairman of the board of the Association of Christian Schools International, says that part of the decision is about setting an example.
"There's a biblical term that many Christian schools use, and it is the whole idea of grace: What would Jesus do?" he said, then addresses Runkles's situation. "She's making the right choice. But you don't want to create a celebration that makes other young ladies feel like, 'Well, that seems like a pretty good option."
In fact, the strain of this situation has made Runkles consider how things would have been different if she hadn't stuck to the convictions that were drilled into her. Runkles did as she was taught, and allegedly admitted to her pregnancy in front of the whole school and asked for forgiveness. She feels her punishment does not reflect the values of forgiveness she had hoped to find at Heritage Academy.
"Some pro-life people are against the killing of unborn babies, but they won't speak out in support of the girl who chooses to keep her baby," she said. "Honestly, that makes me feel like maybe the abortion would have been better. Then they would have just forgiven me, rather than deal with this visible consequence."
Runkles is trying to start a chapter of Embrace Grace, which is an organization that helps single mothers based in churches. Runkles says the father of her baby does not attend Heritage Academy and they have no plans to marry. Her parents are going to hold a graduation ceremony just for her, the day after she would have walked across the stage at her own school