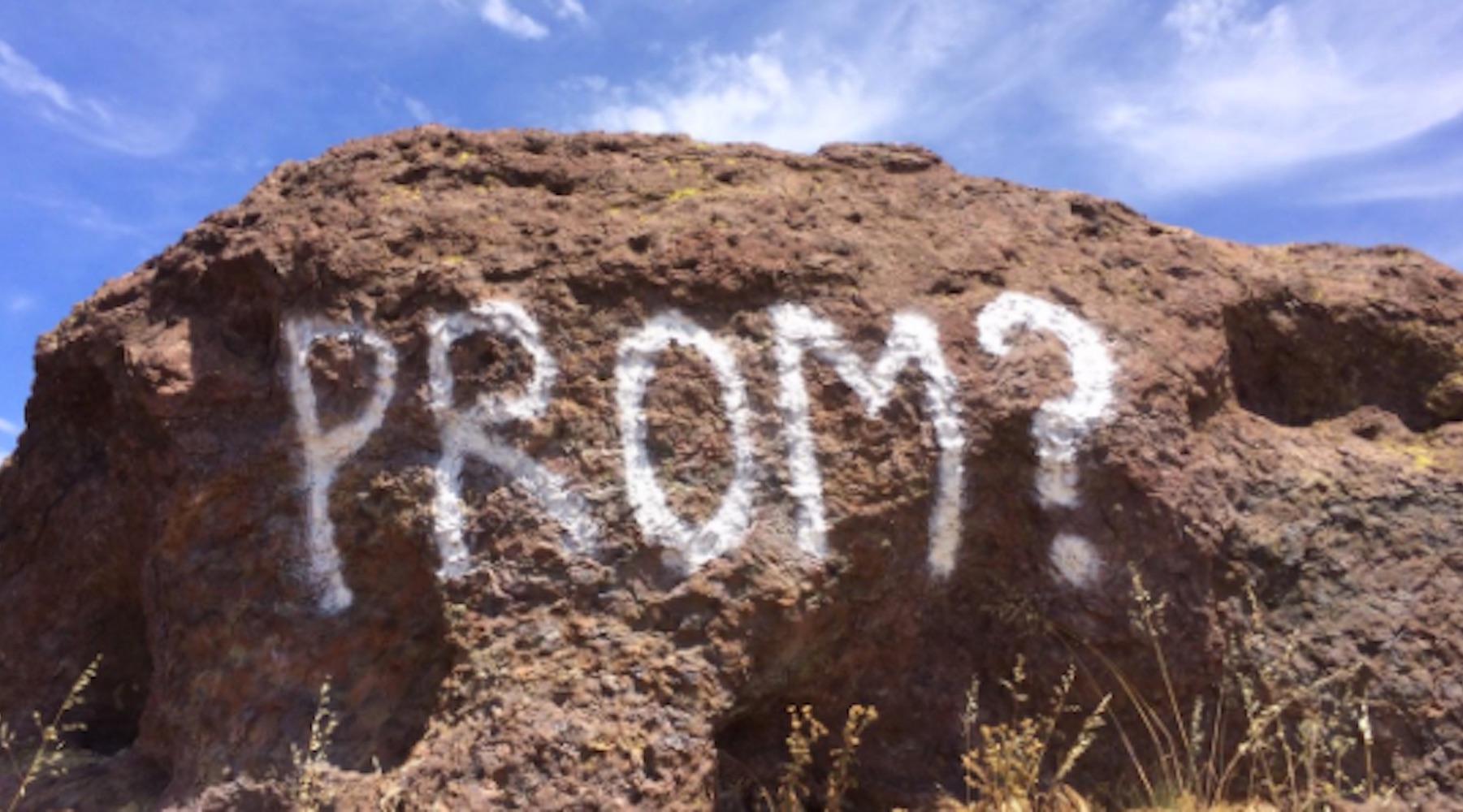 Park Rangers Are Sick And Tired Of Kids Defacing Nature For Their Promposals
By Aimee Lutkin
Viral trends are fun for everyone except for those who have to deal with their consequences after the viral tweets have come and gone. Back when planking was all the rage and people filmed themselves in the craziest places imaginable doing them once the idea of lying down in public was normalized and no longer considered impressive, people went on roofs, fast food signs, off limit areas, and a number of other places that resulted in something breaking and staff having to have to rectify the issue, if it was even possible to begin with.
The scourge of "promposals" have left the schoolyard and spilled into our national parks. The L.A. Times reports that the Santa Monica Mountains park service is tweeting about some no good teenagers defacing public lands in order to invite their special someone to the big dance. Again. This is the second year in a row that a rock has been spray painted with the desperate pleas, "PROM?" near Sandstone Peak. Not only is it vandalism, it isn't particularly original:
The responses to the park service vary from intense agreement about how bad an idea this is to questioning why they even care about a rock. Well, it is their job to take care of mountains and an area called Sandstone Peak. That's not a business you get into if you don't care about rocks.
While there may not be enough documented cases of teens defacing Mother Nature for their prom date to qualify as a trend, it's definitely something that's happened around the U.S. A few years ago, Wilton Police were investigating a poor tree that got gutted in Quarry Head State Park in Connecticut, according to The Wilton Daily Voice. The perpetrator remains at large:
Could they be a high school student traveling from state to state, posing as a senior who just loves promposals and the great outdoors? Probably not, which means if you are a teenager who is considering doing this, or knows someone else who is, please stop them. National parks are for us all to enjoy, and spray painting a rock is lazy, anyway. Be like this judgmental teen:
As for the Santa Monica Mountains park service, they're not usually so annoyed on their social media feed, and I recommend a follow. It's mostly very fun pictures of nature, like this photo of a mountain lion sleeping next to toilet:
That's what I go to the parks to see!