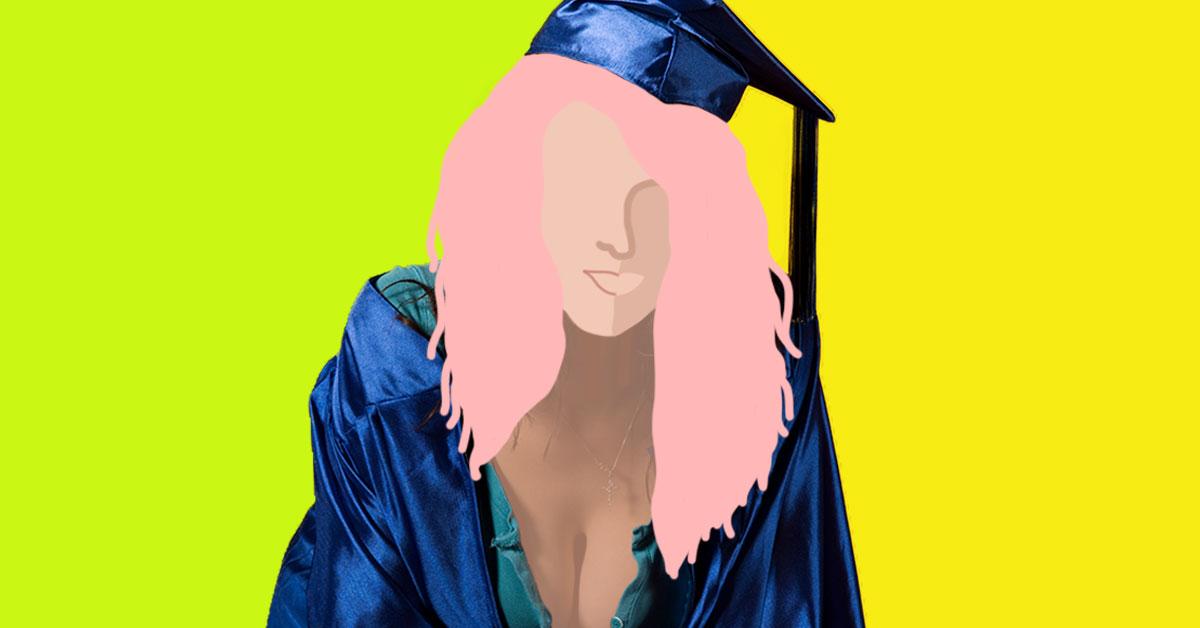 University Slammed For Telling Female Grads To Wear Something 'Low-Cut' At Ceremony
By Aimee Lutkin
There are often clothing regulations at formal ceremonies, but the look suggested at the Brussels Free University in Belgium is raising a few eyebrows and inspiring plenty of Facebook comments. The Guardian reports that prior to their graduation ceremony, students received an email about what to wear to the event. Men were told to wear suits. Women were told to wear something that showed some "joli décolleté" or niiiiiiice cleavage:
More specifically, the writer said that, "from an aesthetic point of view, it is preferable if young women wear a dress or a skirt and a nice low neckline." While suggesting a woman looks best in a dress is pretty sexist, tacking on the "nice low neckline" is an extra creepy spice over this whole meal of a bad idea.
The writer continued to say, "Of course, ladies, this advice is not obligatory." Oh, okay, then that's all right then. They won't be measuring the distance from your collarbone to your neckline before handing over your diploma, don't worry!
The inappropriate message really gained traction after someone posted it to a public Facebook group, labeling it "a little scandal." The Independent reports that's where people started leaving some really angry messages.
"Is this a joke? They are graduates of medicine and we're asking them to show their chest?" wrote one commenter.
Another seemed to find it kind of funny, saying, "The dress I can understand but the 'nice cleavage' 😂😂😂 you got a Phd, but who cares, shows your nipples."
The university eventually issued an apology on their Facebook page, writing, "The Faculty of Medicine, through her Dean, presents her most sincere apologies to all the students who received the mail mentioned below.
This is a mail addressed to future graduates and giving practical instructions for the day of the ceremony."
"It goes without saying that the instructions relating to the clothing of young graduates are as inappropriate as they are contrary to the values

defended daily by the ULB and its Faculty."
Kind of a funny kicker to this whole story is that the ULB is saying the email was probably written by a woman. Mon Dieu!
The dean of the medicine faculty, Marco Schetgen, told Belgian news outlet RTL that the email was not a hoax and was likely written by someone in the Medical faculty' s "secretariat," which are all women.
Unfortunately, women also absorb the sexism we're all immersed in. Whoever you are, you no longer have to regulate how other women dress. Let it go, and give these women their degrees.