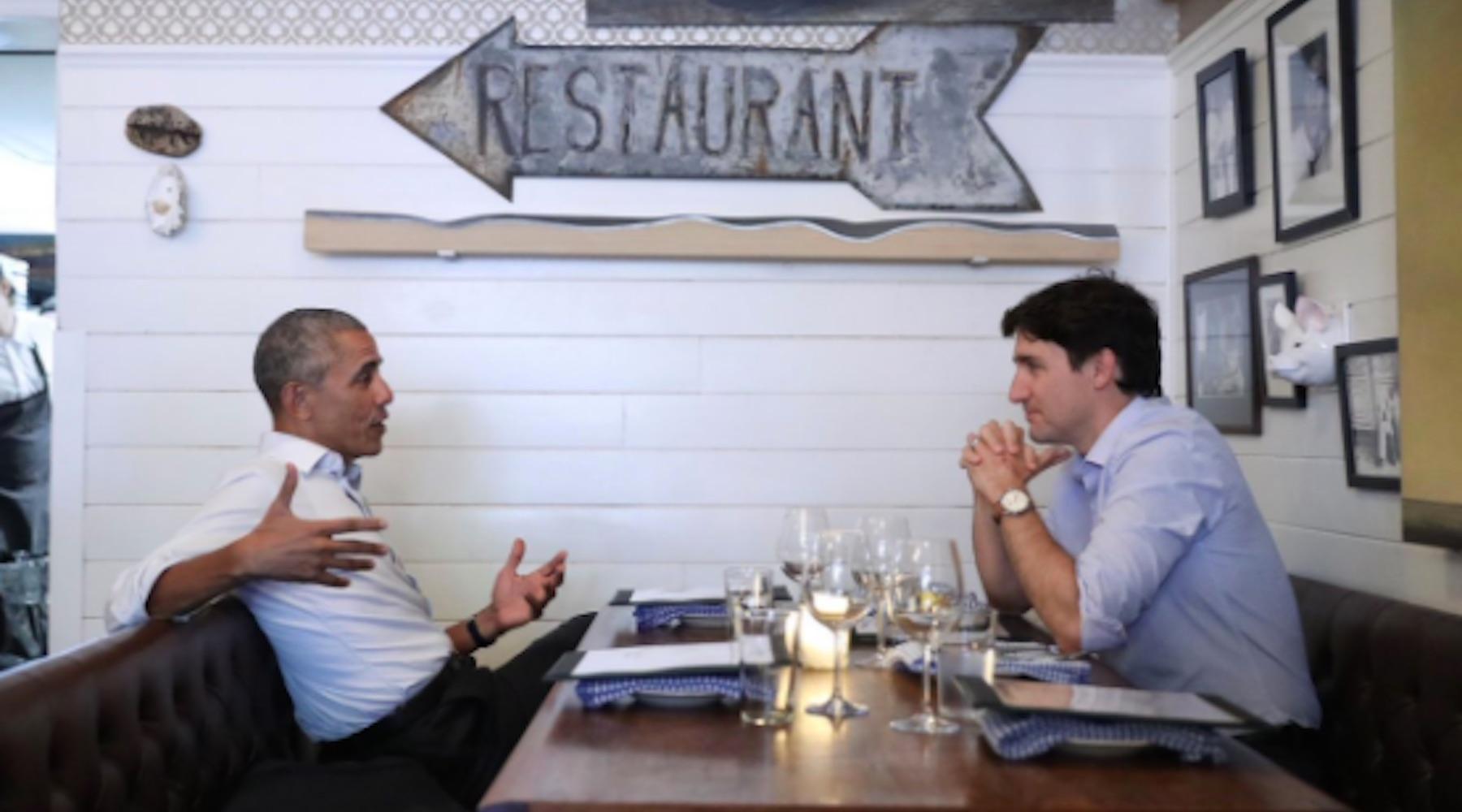 Justin Trudeau And Barack Obama Are Reunited And It Feels So Good
By Aimee Lutkin
The world is hurting for leadership these days, if you ak me. No politician is perfect, but reflecting on what Americans had with President Barack Obama is like thinking back on your first romance. Thankfully, Obama is still out there in the world trying to do some good, and connecting with leaders from countries who haven't completely lost all of our respect.
ABC News reports that Obama met with Canadian Prime Minster Justin Trudeau on Tuesday night in Montreal, drawing quite a crowd:
It's not the first time the two have met, of course, but seeing them together again, looking adoringly at each other over the table at restaurant Liverpool House was absolutely wonderful:
Obama was in town to give a speech organized by the Board of Trade of Metropolitan Montreal, during which he addressed Trump's decision to pull out of the Paris Accords. Obama said during his speech that "temporary absence of American leadership," and that the Accords still stood a chance.
"Obviously I'm disappointed with the current American administration decision to put out of Paris," Obama said. "We're going to have to act with more urgency. I'm looking forward to the United States being a leader and not just on the sidelines going forward."
And that's what he and Trudeau were talking about: leadership. Though we hope they'll both be young and hot forever, we do need new leaders in every party who can responsibly represent the needs of citizens all over the world. And if they look like they're best friends, so much the better:
Obviously, the Internet is here for these two meeting up:
And the Internet was here for some Trump jokes, too, of course:
What do you think of President Barack Obama and Prime Minister Justin Trudeau's reunion?