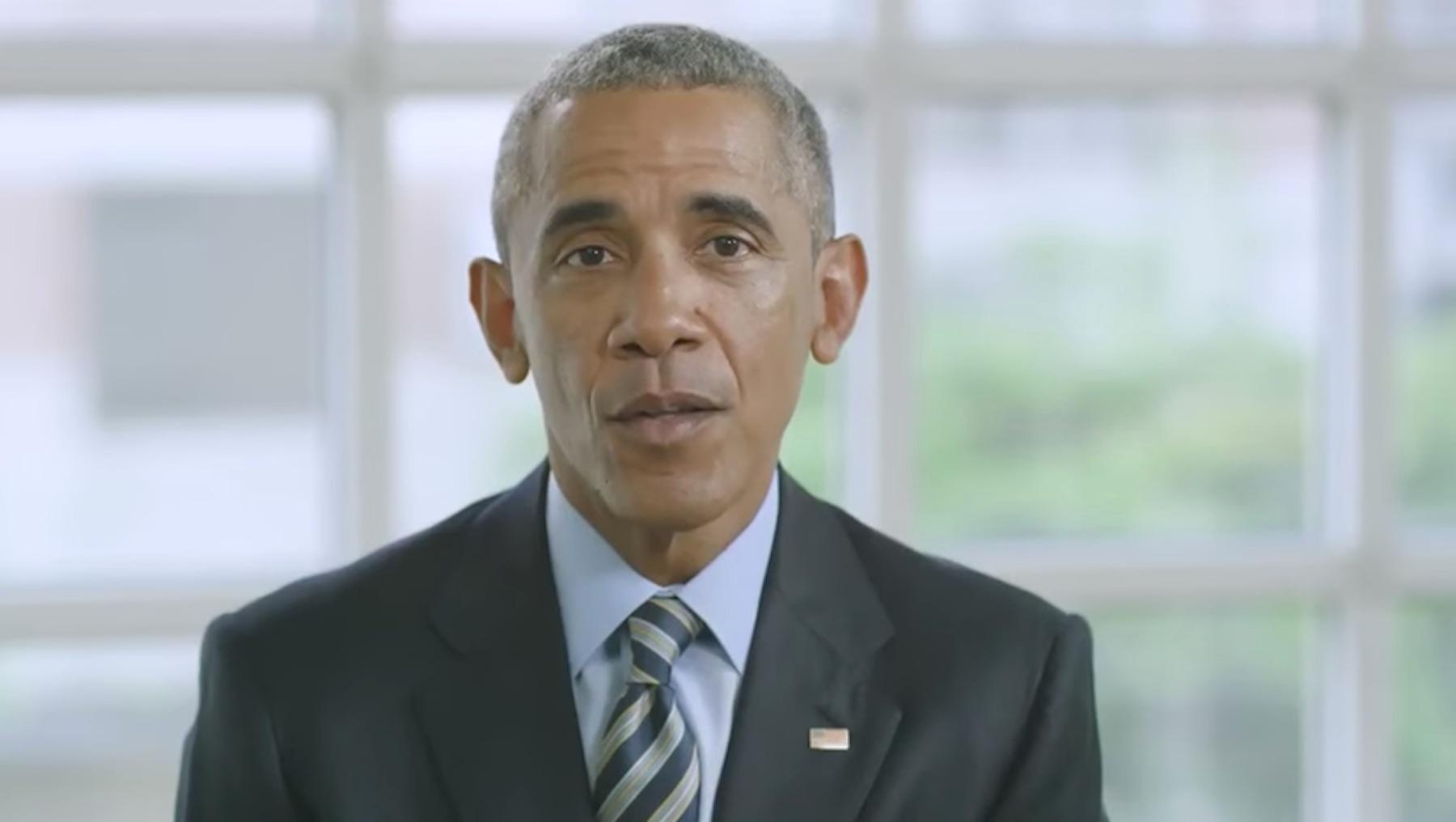 Obama May Have Just Revealed The Gender Of Beyoncé's Twins And Twitter Is Losing It
By Aimee Lutkin

Updated
The Songwriters Hall of Fame inducted Jay-Z in a ceremony on Thursday. Jay-Z is the first rapper to every be included in the Hall of Fame, and they got a pretty big name to record a video message to him. No, not his wife. President Barack Obama sent in a message to the Carter family with a congratulations and few other important details embedded in it:
After saying his general congratulations, Obama drew some comparisons between himself and Jay-Z:
"I like to think Mr. Carter and I understand each other," Obama continued. "Nobody who met us as younger men would have expected us to be where we are today. We know what it's like not to have a father around, we know what it's like not to come from much, and to know people who didn't get the same breaks that we did. So we try to prop open those doors of opportunity so that it's a little easier for those who come up behind us to succeed as well."
He also added that they were both "fools for our daughters," adding, "But he's gonna have me beat once those two twins show up." 
Wait, what? Did Obama just reveal the sex of Beyoncé's twins? Twitter seems to think so:
Obama said that him and Jay Z are fools for their daughters...BUT IS GOING TO HAVE HIM BEAT WHEN THOSE TWINS SHOW UP. BEYONCE HAVING GIRLS.

— ™Marcus (@TheMisterMarcus) June 16, 2017
President Obama just gave away the sex of Beyonce twins 😂😂😂😂😂😂😂

— MonsterKing (@CerromeRussell) June 16, 2017
obama just exposed the gender of beys twins like hes trying to get killed by the leader of the free world(Beyoncé if you didnt get the hint) https://t.co/TeSgiGeHuH

— Sanja (@SanjayaMilic) June 16, 2017
THE TWINS ARE GIRLS
THE TWINS ARE GIRLS
THE TWINS ARE GIRLS
THE TWINS ARE GIRLS
BEYONCÉ FINNA HAVE TWIN GIRLLLLLLLSSSSSSSS
OBAMA DECLARED IT https://t.co/wGzJ9zNpcu

— Luigi (@jerad_js) June 16, 2017
Though at least one person took the less literal and more sexist view that the only way Jay-Z could beat Obama was by having boys:
Obama said you now have me beat meaning that beyonce twins are boys

— Polo! (@Billionairepolo) June 16, 2017
It's hard to say if Obama was revealing anything, on purpose or by accident. Though because the video is taped, you'd think someone would have caught that phrasing when they reviewed it. President Obama goes on to that say that he and Jay-Z both have "wives that are significantly more popular than we are," so he was obviously clear-headed during filming. He also added what may be a low-key comment on Donald Trump, as well:
"Like all of you, I am a fan: I've been listening to Jay since I was a young and hungry state senator," Obama continued. "I sampled his lyrics to close his speech at Selma, and tweeted a reference to 'My First Song' when I was putting the finishing touches on my final State of the Union address. I had to 'brush some dirt off my shoulders' during a campaign. So I'm pretty sure I'm still the only president to listen to Jay Z's music in the Oval Office. That may change at some point but I'm pretty sure that's true now."
According to USA Today, Jay-Z was himself absent from the ceremony, which is feeding the rumors that Beyoncé is in labor now or has recently given birth. He gave a thank you on twitter, though it's not his main form of communication, as you can see:
Thank you to all the people that have inspired me . Rakim KANE KRS chuck cube Jaz Em Andre Nas big PAC cole kendrick chance jayE ..wait,

— Mr. Carter (@S_C_) June 16, 2017
Somebody find that reply I just hit please . I'm new on this . Anyway salute to anybody who made a song to feed their family or just vent .

— Mr. Carter (@S_C_) June 16, 2017
I promise I'm not drunk . Lord Pusha . Carti (Magnolia incredible)ASAP Sean P , Mobb , cudi . Tyler , earl, Snoop!!( almost played myself)

— Mr. Carter (@S_C_) June 16, 2017
What a beautiful relationship!