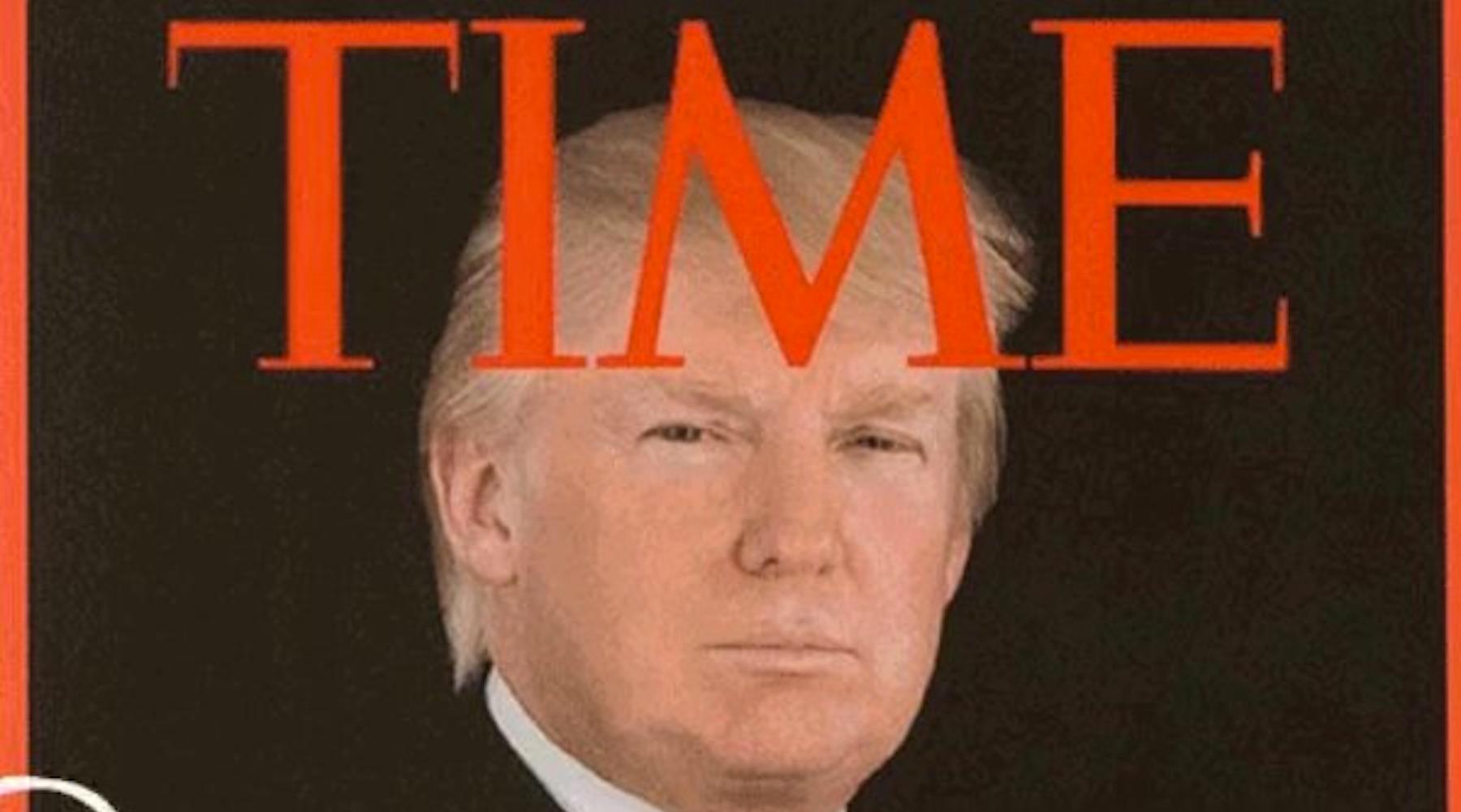 Trump Is In Trouble With 'Time' Magazine For Fake Cover Hung At His Clubs
By Aimee Lutkin
Though Donald Trump is literally one of the most powerful men in the world right now, he seemingly still feels the need to pump up his own importance. The Washington Post uncovered a truly astounding example of this man's bottomless narcissism with an exposé on a fake cover of Time magazine which was apparently hung at various clubs he owns. It's truly hilarious:
The fake cover is dated March 1, 2009, which coincided with the season debut of Trump's show, The Celebrity Apprentice. But there was no Time issue coinciding with that date, and the closest one was a cover featuring Kate Winslet. There are also a number of errors in the layout for the cover, including the phrases "Donald Trump: The 'Apprentice' is a television smash!" and "TRUMP IS HITTING ON ALL FRONTS . . . EVEN TV!"
Time does not use exclamation points on their covers. The red border is too skinny, and is missing an inner white line separating the red from the main image. Finally, the secondary headlines are stacked on the right instead of going along the top, as they would on a real cover.
But the most damning evidence of all is that Time says it's a fake. Kerri Chyka, a spokeswoman for Time Inc., wrote in an email to The Washington Post, "I can confirm that this is not a real TIME cover."
The image supposedly appears framed in at least five golf clubs owned by President Trump, including the famed Mar-a-Lago:
You can also see it hanging in this image on Trip Advisor in his golf resort in Western Ireland, though it has reportedly been taken down. A bartender told the Post they saw it in the manager's office, though they don't know why it had been removed.
Another employee in Scotland told them the picture had been up in Trump's club for years, but had recently been taken down.
"We used to have a Time magazine cover up — aye, it was there for ages and ages, as long as I've been here. I know the one you're on about," the employee said. "But they came and took it down a while back."
The Washington Post contacted the White House to ask about the image and received an email from White House spokeswoman Sarah Huckabee Sanders, who wrote, "We couldn't comment on the decor at Trump Golf clubs one way or another."
The cover drama has inspired some mockery from Trump's foes:
And according to the Guardian, Time has now officially asked Trump to take down any fake covers still hanging on his properties.