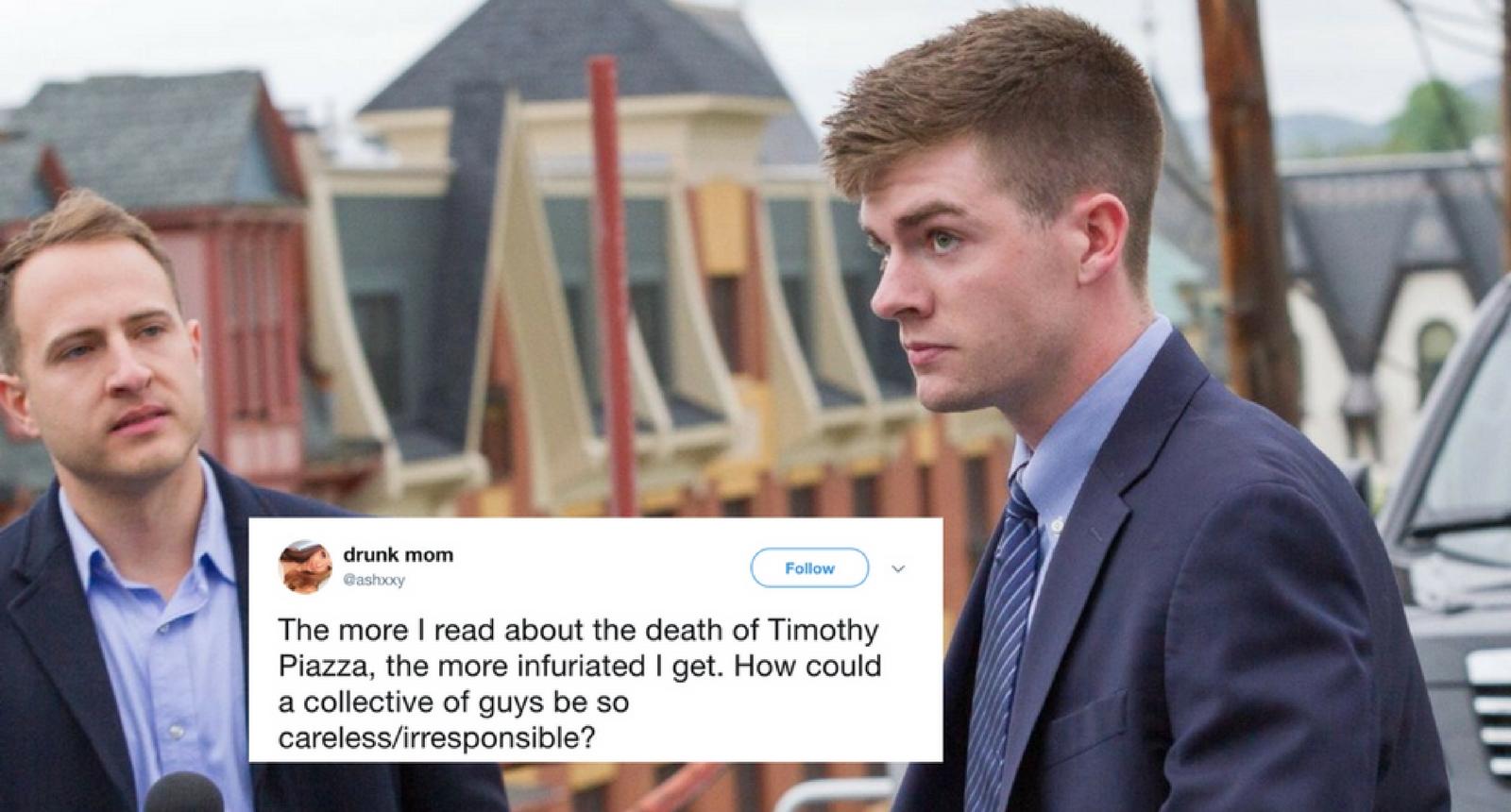 Texts Between Fraternity Brothers Charged In Teen Hazing Death Read Out Loud In Court
On February 2nd, Beta Theta Pi at Penn State University held an alcohol-fueled "bid acceptance night," which led to the death of Timothy Piazza, a 19-year-old sophomore who sustained multiple traumatic injuries after falling down several times at the party.
Article continues below advertisement
The frat is now facing over 850 charges in connection with Piazza's death, but several of the members, including Daniel Casey, a Beta Theta Pi fraternity brother at Penn State University, and Brendan Young Jr., the chapter's president at the time of Piazza's death, are facing more serious charges.
As part of their preliminary hearing (to determine whether their case will go to trial) text messages from the day of Piazza's death were read out in court. They describe a chilling series of events that pretty thoroughly incriminate the men of Beta Theta Pi.
Article continues below advertisement
Daniel Casey texted his girlfriend on the day of Piazza's hospitalization (February 3rd):
"I think we are f****d. Like beyond f****d."
Article continues below advertisement
"I don't want to go to jail for this."
Article continues below advertisement
Piazza died the next day.
The prosecution claims that "the evidence all points to [Piazza's fraternity brothers] consciously and knowingly disregarding the fact that another human was in grave danger," and many of the text messages seem to back that up.
Article continues below advertisement
For example, Young texted his girlfriend on February 3rd:
"I don't think you fully comprehend the situation. He looked f*****g dead."
Article continues below advertisement
"At the end of the day, I'm accountable for it all. I'll be the one going to court, paying for an attorney, and maybe put in jail.
Article continues below advertisement
Also the guys taking care of him didn't call an ambulance right away so they could get into trouble for negligence."
Beta Theta Pi has already been banned from returning to the Penn State campus. Casey's Google searches on the day Piazza died included "how to delete a group on Facebook," "dead Beta pledge Pennsylvania State University," and "how would nine drinks in an hour affect a 200-pound guy."
Article continues below advertisement
Gary DiBielo, who is charged with aggravated assault and involuntary manslaughter, among other counts, texted another brother, Greg Rizzo:
"It's not the fact that he drank, he drank because we hazed him too. Main word being hazed."
Article continues below advertisement
Video shows that between his falls, Piazza spent much of the night in pain on a couch, where some of the brothers "tied him with a backpack, sat on his legs, dumped liquid on his face, threw shoes at his head, and struck him on his injured abdomen."
The main strategy of the defense is to show that Piazza drank to excess by his own volition, without being coerced by his fraternity brothers.
Article continues below advertisement
However, the 14+ defense attorneys working against Piazza's fraternity brothers point out that under Pennsylvania state law, the act of hazing is considered "to be forced, irrespective of willingness" of the participants.
Though the prosecuting attorneys are hopeful the brothers will stand trial, they're also aware that the judge might choose to dismiss some or all of the 850+ charges pressed against the defendants before a trial occurs.