Audi Ignites Outrage With Sexist Ad Comparing Women To Used Cars
Audi thought to compare women to used cars for their latest ad.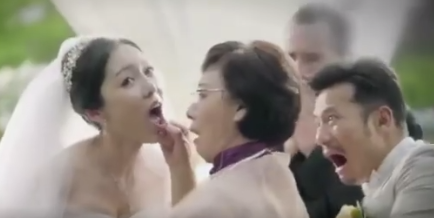 Article continues below advertisement
In the ad, a mother inspects her future daughter-in-law at a wedding, pulling on her nose, ears, and mouth to make sure she's suitable for her son. She gives the A-OK—only then to turn her sights to the woman's breasts. "An important decision must be made carefully," a voiceover advises.
"Hey, @Audi - who thought it was a good idea to equate women to used cars? Because we're #NotBuyingIt," wrote one woman on Twitter who shared the commercial.
Article continues below advertisement
On Weibo—a Chinese social media site similar to Twitter—Chinese people immediately began slamming the ad for sexism, reported CNN. "This is unacceptable," wrote one user, according to the cable network, while another simply called it "disgusting." As the news spread to English-speaking countries, similar outrage erupted on Twitter.
"Not only it's sexist, it also pits woman against woman," wrote one person on the platform. For others, Audi made good by apologizing and issuing a statement to clear their names among the public.
Article continues below advertisement
Audi said in a statement today that it "deeply regrets" the commercial and has removed the ad from television.
"The ad's perception that has been created for many people does not correspond to the values of our company in any way," said the statement.
Article continues below advertisement
"The responsible department of the joint venture has arranged a thorough investigation," the statement continued, "so that an incident like this can be excluded in the future."
But not everyone is buying it. The Twitter account Women in China took to the platform to voice their take on Audi's official apology: "An Audi employee in China said the mother was 'inspecting whether bride had any plastic surgery done' & that ad 'was not objectifying women'."
Article continues below advertisement