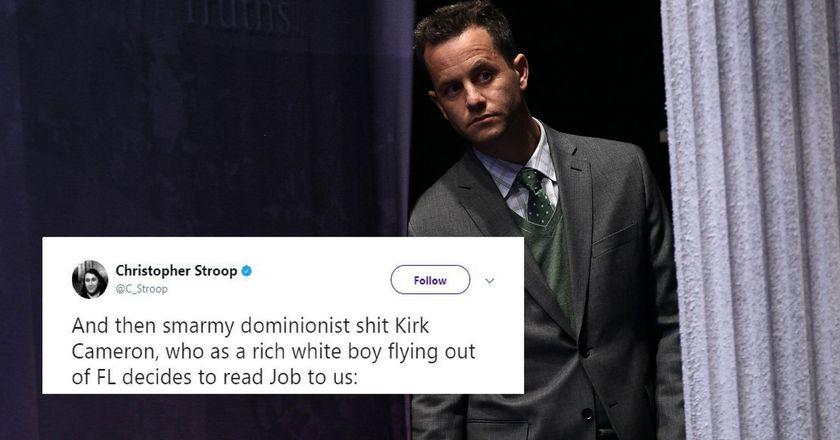 Child TV Star Kirk Cameron Makes Astoundingly Tone-Deaf Statement About Hurricanes
By Jonna Ivin-Patton

Nov. 18 2019, Updated 2:19 p.m. ET
Former child-actor-turned-evangelist Kirk Cameron shared a video on Facebook explaining his interpretation of the meaning of hurricanes.
As he stood in an Orlando airport preparing to flee Hurricane Irma, Cameron had this to say:
This is a spectacular display of God's immense power. And when he puts his power on display, it's never without reason. There's a purpose. And we may not always understand what that purpose is, but we know it's not random. And we know that weather is sent to cause us to respond to God in humility, awe, and repentance.
Article continues below advertisement
Cameron offered advice to parents of children with questions about super storms:
Remind them that God is the blessed controller of all things. He is the one who gives us peace, security and strength in the midst of the storm and that he uses this to point us to him and to his care for us.
Another possibility is that God wants us to pay attention to climate change.
Here's Cameron's video, which he made while avoiding God's message of "humility, awe and repentance":
Article continues below advertisement
Twitter didn't care for Cameron's comments:
Article continues below advertisement
Article continues below advertisement
Article continues below advertisement
Article continues below advertisement
The death toll for Hurricane Harvey currently stands at seventy, while Hurricane Irma is predicted to cause massive devastation in Florida. Irma has already slammed the Caribbean, reducing some areas to rubble.
Hurricane Harvey moved into Texas as a Category 4 hurricane over the weekend, and has since been downgraded to a tropical storm. Despite being downgraded, Harvey is still the strongest storm to hit the United States since Charley in August 2004 and the most powerful to hit Texas since Hurricane Carla in 1961.
The National Weather Service predicted that as much as 50 inches of rain has fallen in some areas, and at least five deaths have been reported. Perhaps the hardest hit area has been Houston, the most populous city in the state, with millions being affected by flash flooding.
Joel Osteen, head of the Lakewood mega-church in Houston, Texas, also became the focus of the Internet's anger over the past several days. When Hurricane Harvey hit the coast, flooding huge swaths of land and leaving thousands without shelter, Osteen refused to open the doors of his 17,000-seat building.
Osteen then began claiming the church was inaccessible due to flooding, despite pictures people quickly shared on Twitter showing the premises almost completely unharmed. In response to the intense public outcry, Osteen finally bowed to pressure and opened Lakewood to those in need.