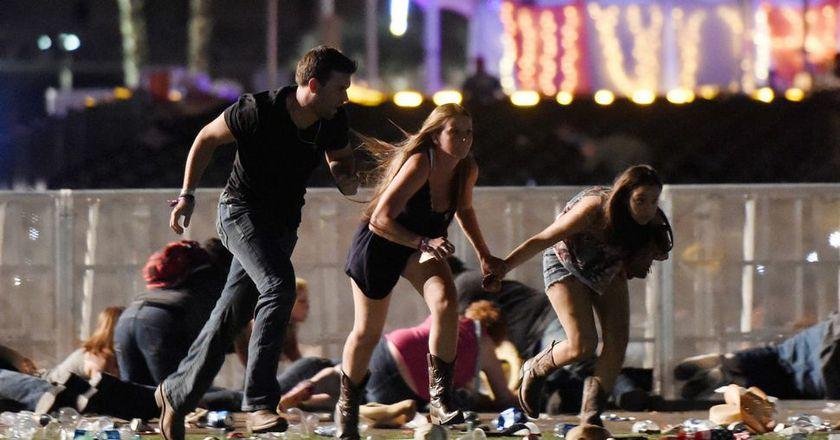 Man's Text Messages With Friend Who Was In Las Vegas Massacre Emerge Online
During the recent mass shooting in Las Vegas, many victims texted friends and family to tell them they loved them or to let them know they were okay. Some texts are appearing online. One Imgur user recently posted an exchange with a friend who had gone to the country music concert.
Article continues below advertisement
The messages are a terrifying reminder to tell our friends and family that we love them.
This post begins with, "Tell your friends you love them. I almost made a huge mistake." The caption under this image says, "What could have been the last message I ever sent one of my best friends."
Article continues below advertisement
The caption of the second image reads:
I'm just so happy her and her husband are ok and I'm able to give her a hug tomorrow. Please just take a moment to tell your family and friends how much you love them today. I almost made one of the biggest mistakes of my life tryna be funny. Also, it took 20 minutes to get that return text about them being ok. I haven't had a panic attack like that in years waiting to hear they were ok.
Article continues below advertisement
Other stories reveal terrifying moments for people whose loved ones were at the concert:
Breaking Bad actor Dean Norris was in London filming a movie when he began receiving text messages from his sister. Norris said:
It was a personal shock, I woke up and it was oh two people shot in Las Vegas, and then it was 20 and then it turned to 50. Then I get a text saying [from his sister], "We're barricaded into some supply room," and I was like, wow!
Norris continued, saying:
It always seemed like it was somewhere else … like, well, it's never going to happen to me, it's never going to happen to us.
Washingtion Post reporter Lynh Bui tweeted this heart-stopping text from a daughter to her mother:
Article continues below advertisement
Joseph Lambourne received this text from his wife Jan, who was at the concert:
I love you. I've [been] shot. I love [you] so much.
Jan Lambourne is reportedly in stable condition.
Article continues below advertisement
This wasn't the first time J.C. Monticone received an "active shooter" text from his fiancée.
Melissa Castruita, who was an employee at the Inland Regional Center in 2015, first texted those words to Monticone during the San Bernadino Shooting. Unbelievably, she found herself texting them again as Jason Aldean left the stage. Just moments before she had sent this text:
I'm so scared!! Do you hear that? They took jason Aldean's off stage.
Two mass shootings in one lifetime? That's two too many.