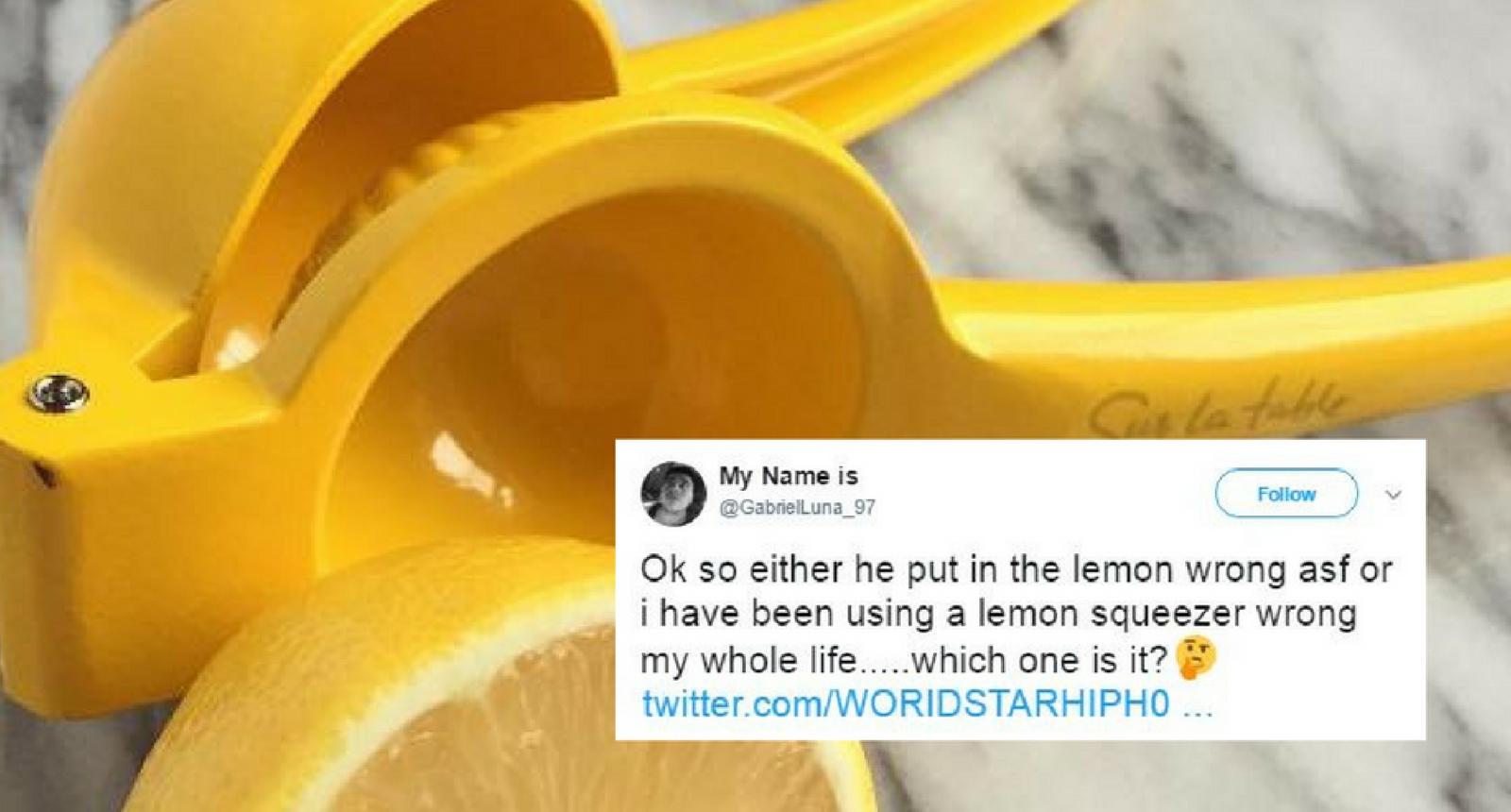 You've Probably Been Using Lemon Juicers Wrong This Whole Time
Juicing lemons with a handheld manual juice press can seem like an obvious process, but you might be missing a step that makes all the difference!
Article continues below advertisement
The common squeezing technique might look a bit like this.
You stick the half lemon into the receptacle and squeeze. It takes a bit of arm strength and bicep effort, but it works miracles. Much faster than squeezing by hand, at least. That much is for sure.
The diagram below, captioned "Large Stainless Steel #LemonSqueezer Lemon Juicer Press for Orange Lime and Lemons Citrus 2.4'' inner diameter, 0.88lbs. Designed for effective extraction, this#hand-heldlemonsqueezer won't waste an ounce of juice. This #Lemonsqueezer made out of the high quality material available and will not break when squeezing. This hand polished Citrus #Juicer will not peel or rust" kind of aptly describes what the juicing process looks like. Mmmm almost time for lemonade.
Article continues below advertisement
The more practical and efficient way is to cut the bottom end of the citrus and let the convex part of the press flush out the juices by mashing the pulp.
This way you get a lot more pulp out of your lemon, and can make more lemonade to enjoy in the end. Yay!
Article continues below advertisement
This type of juicing technique fits in with other ways of juicing where the pulp is being pressed on by a convex structure and twisted.
"Sometimes it pays to re-address or re-evaluate a stressful situation, relationship, or thought pattern, and to do your best to squeeze out all the parts that are getting in the way of its functioning. In this case, what's getting squeezed out isn't dysfunctional at all, but rather is tart and delicious," wrote someone below this image.
Article continues below advertisement
If this comes as a shock to you, you are not alone!
Article continues below advertisement
Article continues below advertisement
It's never too late to learn something new! Take this tip and make the most out of your citrus juicing adventures.