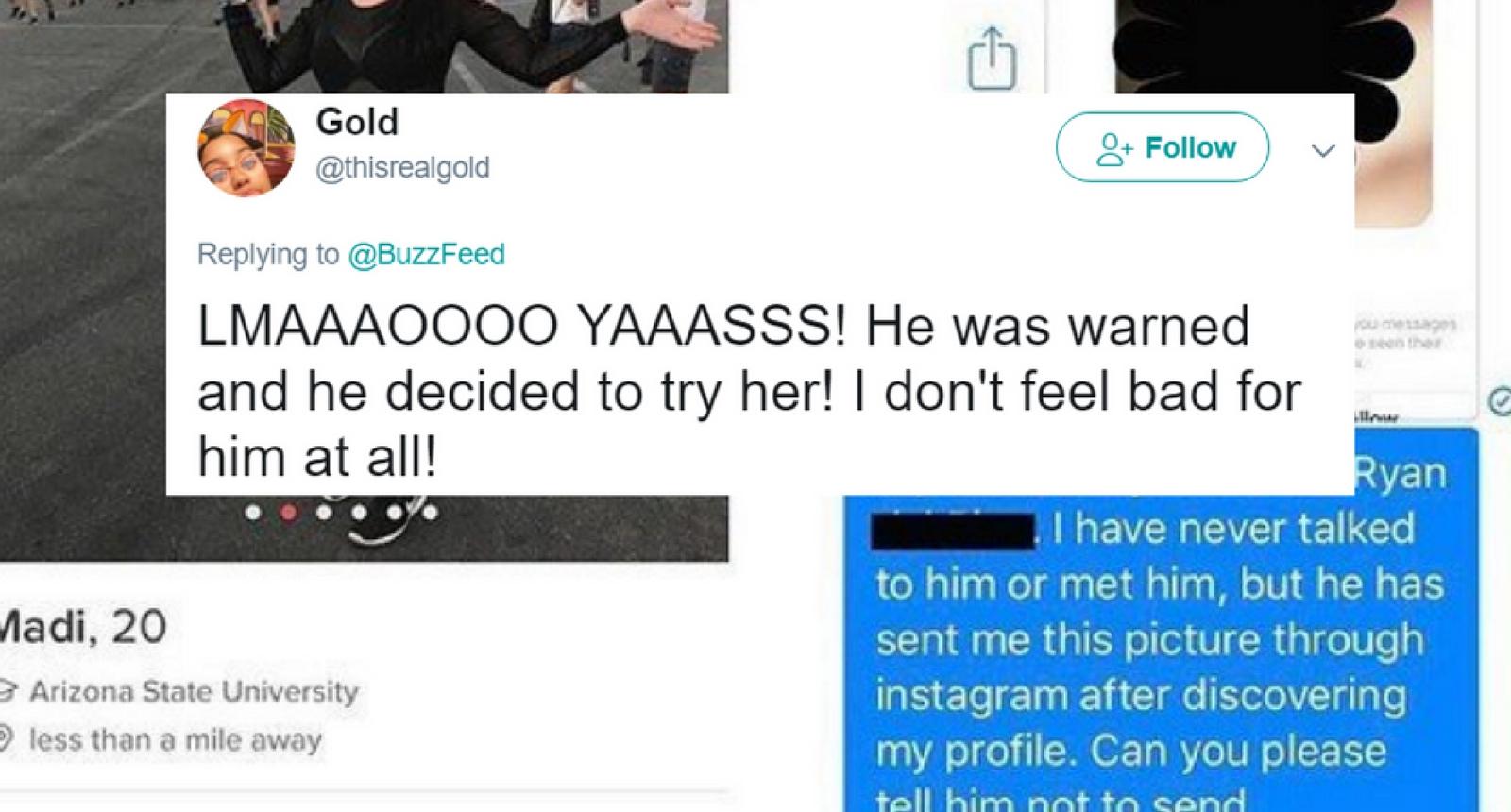 Woman Says She'll Send Any Man's Unsolicited D*ck Pic To Their Mom, And A Guy Actually Challenged Her
By Erica Diaz
Madi Kohn is a 20 year old student at Arizona State University and is really over getting unsolicited d*ck pics from guys online. Like, really over it. She's so over it that her Tinder profile includes a warning that if she gets one, she will pass it along to the dude's mother.
Madi is not playing, you guys.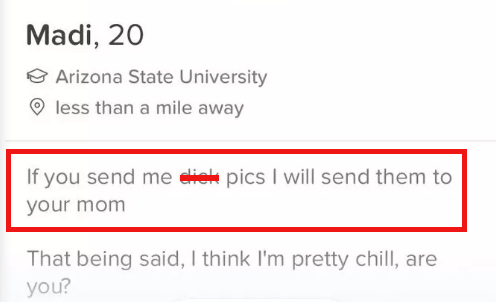 Like lots of other young women, Madi has her Tinder account linked to her Instagram, and, unfortunately, she's kind of come to regret that decision. Having the two profiles linked creates a sort of loophole in the Tinder process. Whereas normally on Tinder people can't message you unless you've matched with them, linking your Instagram account allows people you didn't actually match with to still message you.
That's where Ryan comes in.
He didn't match with Madi on Tinder, but he began sending her "kind of creepy and kind of gross and annoying things" via Instagram. The messages, which Madi initially ignored, culminated in -- you guessed it -- an unsolicited d*ck pic. At six in the morning. Seriously. who sends d*ck pics at six in the morning?!? LET THE GIRL SLEEP!
Madi was both tired and unimpressed.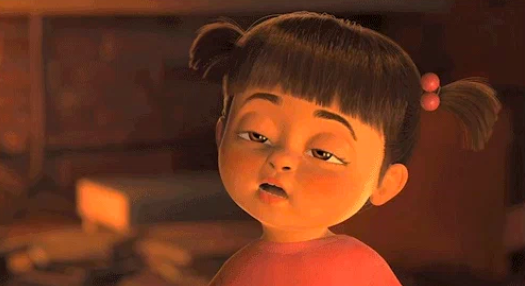 So Madi did what she said she would. She did some digging through his profile, found the guy's Facebook, where he had family members linked, and forwarded the pictures along to his mother.
Madi is a woman of her word, y'all.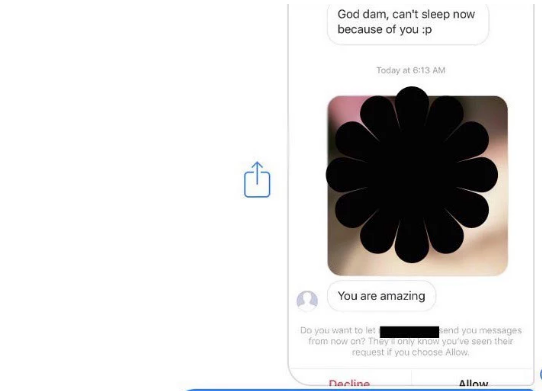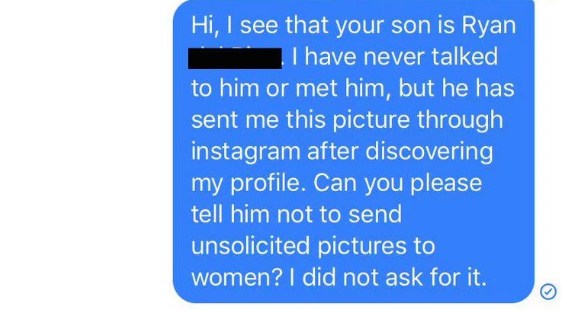 In the message, Madi wrote: "Hi, I see that your son is Ryan (redacted). I have never talked to him or met him, but he has sent me this picture through Instagram after discovering my profile. Can you please tell him not to send unsolicited pictures to women? I did not ask for it."
Mom replied, apologizing in both English and Spanish, and saying she would have a talk with her son. The guy changed his Instagram name and username shortly after and has not contacted Madi since. But that's not where the story ends.
When Buzzfeed reached out to Ryan for his side of the story, he complained that he felt violated and that Madi couldn't prove it was him who sent the pictures anyway. Evidently, he's very concerned about matters of consent.
"I will say this. If that was 'me' what she did was illegal. You can't share those types of 'private' pics without consent. I am not sure if you are aware of that. My mom, my sister, other family members, my friends - no one cared."
He then went on to talk about possibly pressing charges, but how he'd be willing to skip that if Madi leaves him and his family alone.
When Twitter caught wind of that aspect of the story, they went IN.
The "Shaggy Defense" didn't hold up long this time.
We want to know what his friends and other family members have to do with this. Madi only sent the picture to his mother. Did he decide to hold an entire friends and family meeting and show them all?
Not everyone thinks Madi did the right thing. While most of the women cheered her response, some of the men just didn't seem to get it or understand just how often it happens.
"It happened once, and I just ignored it."
Michael took issue with what Madi was wearing in one of her images. We were going to describe it, but IT DOESN'T MATTER WHAT A PERSON IS WEARING, THEY ARE NOT ASKING FOR IT UNLESS THEY LITERALLY ASK FOR IT. Sorry, caps got stuck there...
Anyway, here's Michael's take on the issue.
Steven is just sitting here lamenting the greatness of our nation.
And we're kind of like "same."
So once again, gentlemen, please remember d*ck pics are fine as long as you have the okay to send. Just ask, and if the answer is "no," it's "NO." That's it.
Got it? Good.