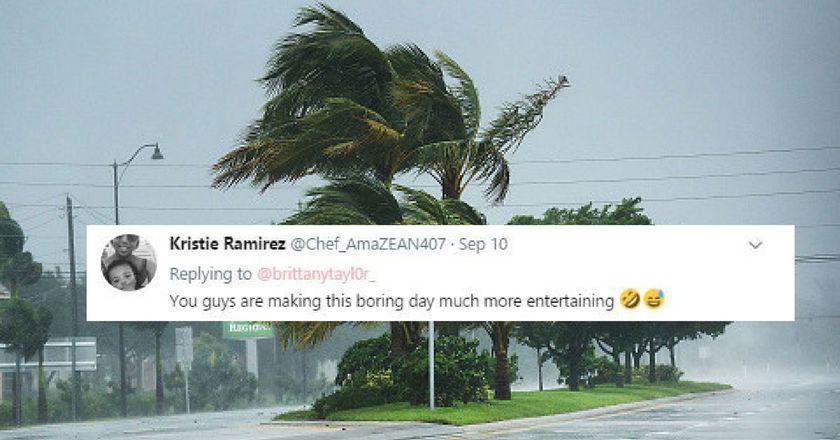 Fake Reporter Stuck In A Hurricane Video Has The Internet Rolling With Laughter
By Mark Joseph
Miami largely dodged a bullet over the weekend when the trajectory of Hurricane Irma shifted west at the last minute.
So while many Floridians were fleeing the storm or hunkering down in their homes, one family just outside Miami decided to have a little fun by recording a parody video of a news report from the heart of the storm.
And it had Twitter cracking up.
Some felt it was a typical response for folks in that area.
But wait, what's that in his hand...?
Umm, no...
This is a family show, after all.
And speaking of the kids...
Others wanted to make sure the family was safe as well...
...and even got a response...
What better way to lighten the mood than with a little fun and laughter?
The death toll for Hurricane Harvey currently stands at seventy, while Hurricane Irma is predicted to cause massive devastation in Florida. Irma has already slammed the Caribbean, reducing some areas to rubble.
Hurricane Harvey moved into Texas as a Category 4 hurricane over the weekend, and has since been downgraded to a tropical storm. Despite being downgraded, Harvey is still the strongest storm to hit the United States since Charley in August 2004 and the most powerful to hit Texas since Hurricane Carla in 1961.
The National Weather Service predicted that as much as 50 inches of rain has fallen in some areas, and at least five deaths have been reported. Perhaps the hardest hit area has been Houston, the most populous city in the state, with millions being affected by flash flooding.
Joel Osteen, head of the Lakewood mega-church in Houston, Texas, also became the focus of the Internet's anger over the past several days. When Hurricane Harvey hit the coast, flooding huge swaths of land and leaving thousands without shelter, Osteen refused to open the doors of his 17,000-seat building.
Osteen then began claiming the church was inaccessible due to flooding, despite pictures people quickly shared on Twitter showing the premises almost completely unharmed. In response to the intense public outcry, Osteen finally bowed to pressure and opened Lakewood to those in need.
H/T- Twitter