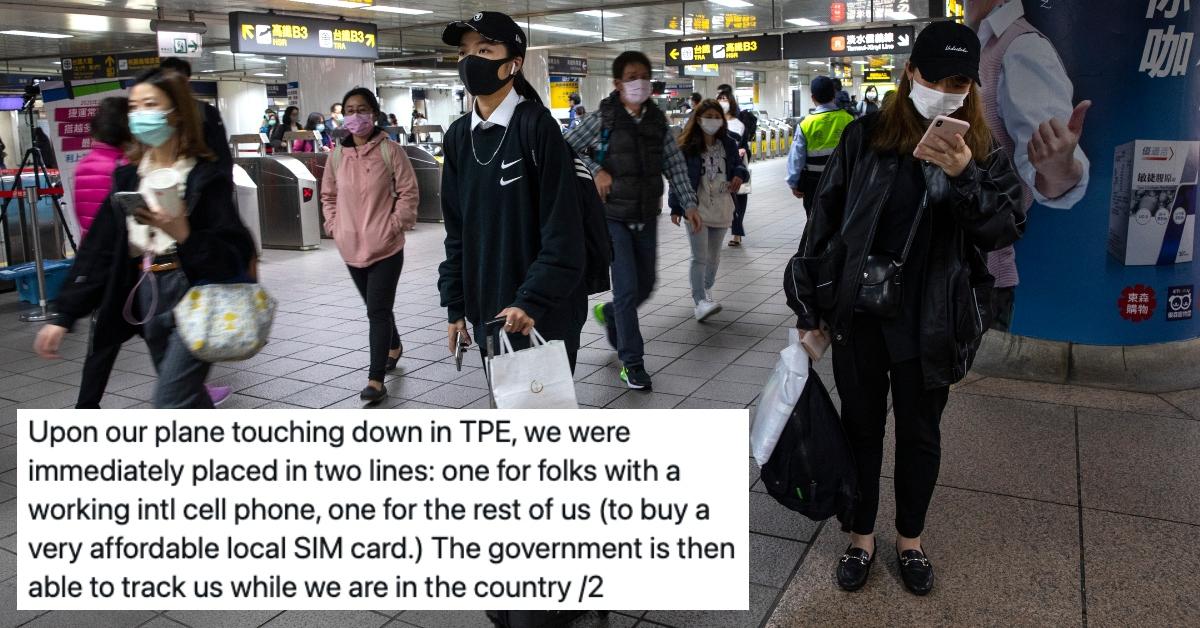 Filmmaker Who Traveled to Taiwan Describes Country's Strict Policies During Age of COVID
By Robin Zlotnick

Nov. 23 2020, Published 9:15 a.m. ET
Filmmaker Alice Wu recently traveled to Taiwan, which has successfully contained COVID-19. USA Today reports that the country, which is home to approximately 24 million people, has had just 607 cases of the coronavirus this year, and seven deaths. For comparison, "Florida has a slightly smaller population (21.5 million), but has recorded more than 897,000 cases and 17,600 deaths."
Article continues below advertisement
Daily life in Taiwan has mostly returned to normal, with people packing into subways and working in offices. But how are they doing it? And how are they handling those who travel into the country from places where the virus is still spreading? Alice Wu tells us in a viral thread she wrote based on her own, firsthand experience.
A note from abroad: Realizing now that I've been 5 days out of US that many folks back home don't realize how other countries might be living with the 'Rona. Here is what it was like to come to Taiwan. I think we could maybe learn a coupla things... /1 #COVID

— Alice Wu (@thatalicewu) November 21, 2020
It's true that most Americans have no idea how other countries are handling the virus. We know that we are doing it very badly, but that means we have no conception of what a successful pandemic response looks like. Taiwan very nearly completely contained the virus. I would bet their treatment of the pandemic differs greatly.  
Article continues below advertisement
Upon our plane touching down in TPE, we were immediately placed in two lines: one for folks with a working intl cell phone, one for the rest of us (to buy a very affordable local SIM card.) The government is then able to track us while we are in the country /2 #ContactTracing

— Alice Wu (@thatalicewu) November 21, 2020
Alice explains that the government tracks everyone coming into the country via their cell phones. This may already seem like a violation of privacy for some Americans, but remember, we're in the middle of a deadly global pandemic. For some countries, protecting their citizens and curbing the spread of the virus is more important than some nebulous idea of individual "freedom."
Once through immigration and baggage, we are required to take govt-approved covid-safe cars to our quarantine hotels. (If you are a local, you can self-isolate at home.) No leaving your room (or home) for 15 days. Not for walks- nothing. /3

— Alice Wu (@thatalicewu) November 21, 2020
Unlike in the U.S., the government has invested in its pandemic response. That's why, even with the very small number of cases in Taiwan, all travelers are provided "covid-safe" car rides to their hotel rooms. 
Article continues below advertisement
At the hotel: meals are left outside your door three times a day. There is no contact with anyone. Every day, you get a call from the health department asking if you have any symptoms. If so, they will immediately rush you to the hospital for care. /4

— Alice Wu (@thatalicewu) November 21, 2020
Additionally, all meals are provided and delivered to hotel rooms. This investment is one way to ensure that visitors have the capacity to quarantine properly. Every day, the health department calls to ask if you have any symptoms. If not, you continue to quarantine. If you have any symptoms at all, you are immediately taken to the hospital.
This is a stark contrast from the United States, where the onus is completely on the person to quarantine yet still somehow get meals and necessities to their hotel. As you can imagine, this results in people who are supposed to be in tight quarantine leaving and interacting with others when they shouldn't be.
Article continues below advertisement
As a sidebar, I have discovered that I am weirdly okay having all my daily living decisions made for me. Have not yet gone crazy confined within four walls. Perhaps I would have made a good housepet. /5

— Alice Wu (@thatalicewu) November 21, 2020
Alice writes that it really wasn't that difficult to follow the rules and have her decisions made for her when she was provided with everything she needed. Not to mention, she's helping a country keep its case count low and not spreading a virus after she's had a lot of potential exposure. 
Never mind about domesticity, after 15 days, you are free to go. For 7 more days, you are required to check your temperature every morning (they actually gift you a thermometer) and someone calls every day to make sure you're okay. /6

— Alice Wu (@thatalicewu) November 21, 2020
After 15 days in quarantine, you can go, but you must check your temperature every morning, and someone calls to make sure you're OK. They actually give every traveler a thermometer. After 22 days of quarantining and then monitoring your temperature, you are free to move around the country. This is how you make sure a virus doesn't spread.
Article continues below advertisement
Because most local citizens have voluntarily signed up for contact tracing (and all of us foreigners are required to opt-in) should a case break out, anyone who was in significant contact would be notified, then required to self-isolate for a number of days. /7

— Alice Wu (@thatalicewu) November 21, 2020
Contact tracing efforts are highly organized, so if there is a breakout, those who came into contact with the COVID-positive person are notified as quickly as possible. Those people are then required to quarantine. 
At any point, if you break quarantine - which they can tell by the movements of your phone - you could be fined 10-30k. They are quite serious on this point. Then again, they haven't had a case in 200 days. And everyone has been living their lives freely since February./8

— Alice Wu (@thatalicewu) November 21, 2020
$10,000 to $30,000 may seem steep, but you're putting actual people's lives at risk when you break quarantine, and Taiwan takes the safety of its residents seriously. It may seem like an overstep that the government is able to track people with their phones, but again, we're living through a global pandemic. These aren't normal times. 
Article continues below advertisement
Again, not an expert. But again: EVERYONE IN TAIWAN HAS BEEN LIVING THEIR LIVES FREELY SINCE FEBRUARY! I mean yes, people voluntarily wear masks in public places, but otherwise, restaurants, subways, etc are packed. So.... /10

— Alice Wu (@thatalicewu) November 21, 2020
Alice reminds us that these policies have allowed the people of Taiwan to live their normal lives since February. People are eating in restaurants, traveling on public transportation, existing in public spaces without intense fear of getting COVID. That's huge. 
Alice concludes her thread with this: "I guess this could have been our lives too? Food for thought..." But we have a federal government that is so reluctant to step in, even in times of crisis. We have a president who gutted the CDC and was woefully unprepared for a situation like this. 
Article continues below advertisement
We have a population that values individual freedom at the expense of everything else, including our neighbors' lives. We have leaders who politicized the idea of wearing a face mask in order to curb the spread of the virus and made it a matter of personal preference when it should have absolutely been a national mandate.
There is no overstating just how disastrous the United States' response to the pandemic has been. Other countries like Taiwan have been able to largely return to normal life while the U.S. is experiencing a horrific wave of cases. Maybe it's time we demand things are done differently.