Beauty Influencer Michelle Grace "Beats" Her Toddler and Then Posts About It
Beauty influencer Michelle Grace posted on her channel a disturbing video about why she had to beat her child for ruining her makeup palette.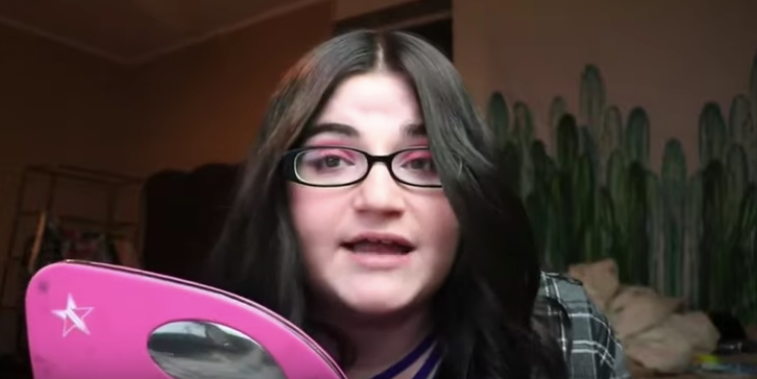 In today's "Why Would You Ever Post That?" news, we have beauty influencer Michelle Grace, who decided to explain to her followers why she was so upset that she had to "beat the crap out of" her child. The single mom posted a rather disturbing video, in which listeners can hear her child crying in the background throughout. She explained that she was just crying because she "just got her ass beat."
Needless to say, no one is particularly calling her "Mother of the Year" online.
Article continues below advertisement
Why did this beauty influencer feel the need to beat her child? Because of a makeup palette.
Michelle took to YouTube to seemingly vent to her followers. Throughout her videos she says that she wants to cry and takes deep breaths to steady herself, while she explains what happened. Apparently, her two-year-old had been getting into her makeup palettes for sometime. She claims that she had even locked the palettes away, but her daughter always managed to find them. Twice, she destroyed a James Charles palette.
Article continues below advertisement
The way she describes the first palette being ruined is troubling in and of itself. After Michelle had fallen asleep one night, her daughter managed to climb out of her crib and find Windex.
"She had sprayed Windex all over her crib, all over her sheets, all over her pillow, and all over my James Charles palette," Michelle laments. She notes that it "would have been an f-ing disaster" if her daughter ate some of the Windex although it's hard not to wonder, how does she know that she didn't?
Michelle was able to replace the palette, but her two-year-old got into it again and ruined it again. But, although she was upset about the James Charles palettes, she noted that he was "kind of cancelled" so his makeup wasn't that hard to find and replace, even if it was still on the expensive side.
Article continues below advertisement
No, what Michelle was really upset about was her Alien palette, from Jeffree Star Cosmetics. As she was setting up to start a filming a new video, she had just finished eating chicken nuggets and had ranch with it on a plate. She put the plate behind her on the bed, but, shortly after, she noticed a strange smell. When she turned around, she found her toddler with her Alien palette, a paint brush, and the ranch that used to be on the plate.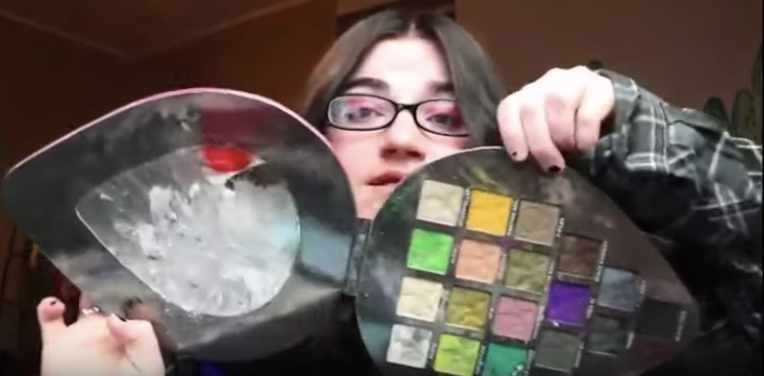 Article continues below advertisement
Immediately distraught, Michelle decided that the best course of action was to hit her child to correct the behavior. She noted that it was a discontinued palette which meant that, by the time she'd have the funds to replace it, it would already be unavailable. Ironically, she went on to explain why she hit her child by saying that she was distraught that her actual child had destroyed her "children".
"You save up and you save up and you save up to buy something, it's literally like a child," she explained, of her palettes. "You treat it like a child. My Conspiracy palette, my James Charles palette, they're literally like my children. I protect them with my life." She went on to say that she "beat the crap out of her. Well, not literally, but I gave her a good butt-whooping."
Article continues below advertisement
To no one's surprise, what happened didn't go over well.
Michelle noted that other parents may not agree with her methods and that might have been an understatement. In fact, many people are saying that Child Protective Services should be called to investigate what happened and, potentially, remove her child from her altogether.
Article continues below advertisement
Article continues below advertisement
Michelle initially defended herself on Twitter, saying that she did "spank and pop my child but only when she absolutely will not listen to my guidance". However, she ultimately decided to delete her Twitter account and her Instagram account. But that hasn't stopped people from trying to tag her and comment on what happened. She also deleted the original video off her channel.