Bachelor in Paradise fans across the globe right now are simultaneously enthralled and quite confused by the tangled drama web that is constantly unfolding.
The "villain" of this season, Blake Horstmann, is quite a player, and it turns out he dated several of the contestants prior to arriving in Mexico. So if you're trying to figure out Blake's relationship timeline, sit back and relax — I've mapped it out for you.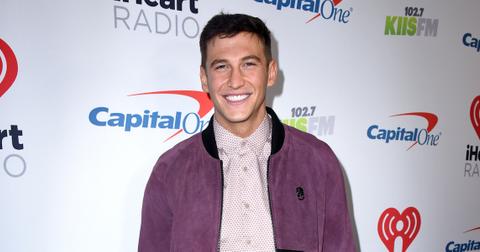 August 2018: Blake and Kristina meet.
According to Kristina, she met Blake in August 2018 and immediately hit it off. She had really hoped it would go somewhere.
"I was like, this guy is worthy of my attention and what I have to offer," she shares. "We had some fun and then, at times, more than friends."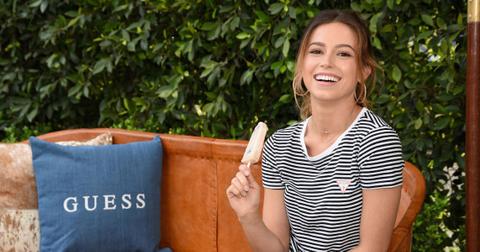 October 2018: Blake and Kristina are "just having fun."
Blake went on Ben Higgins' and Ashley Iaconetti's Almost Famous podcast to discuss his relationship with Kristina. 
Although nothing was official at the time, he said they were having a great time, however, he reiterated that it was "nothing serious."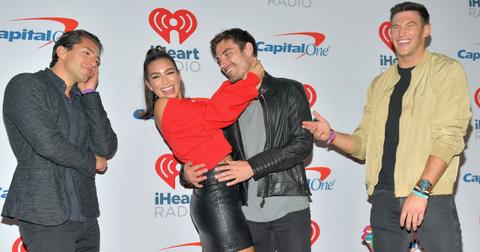 April 2019: Blake and Kristina are over.
Blake appeared on The Morning Toast and ended up confirming that he and Kristina did — in fact — date. 
But he said things didn't work out because he still wasn't over his on-screen breakup with Becca K. Shame.
Before April 2019: Colton set up Blake and Caelynn.
The two started "talking" for a couple of months, FaceTiming several times a day, and texting consistently. 
"I really liked him, I was like 'I actually see something with this guy,'" Caelynn said. So it came as quite a shock that he ended up ghosting her, too.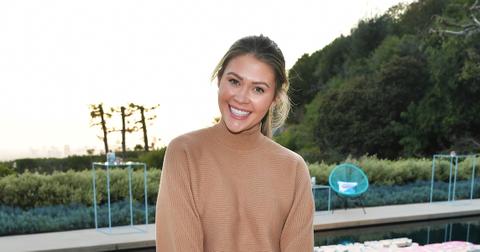 Stage Coach Music Festival in April 2019: Uh Oh...
At the California festival, Blake — well — definitely stretched himself too thin.
On the first night of the music festival, he and Kristina ran into each other. And according to Kristina, they ended up back in bed together. Is it common for flings to reignite? Of course. But then, s--t hit the fan.
On the second night of the music festival, Blake and Tayshia Adams were reportedly flirting. But nothing happened. 
But that same evening, Caelynn and Blake ended up running into each other. And like the charming guy he is, Blake ended up "sweet-talking [her] and they [spent the night together]," she told BIP bartender, Wells Adams. 
Things, however, didn't go so well. According to Caelynn, when she woke up next to Blake, he was DM-ing fellow contestant Hannah G., and also talking about how hot he thinks Tayshia Adams is.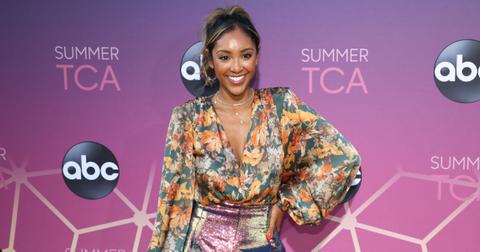 June 2019: Blake was busy before Bachelor in Paradise began filming.
Blake reportedly flew to Hannah G. in Alabama so they could "get to know each other better" before filming. Obviously, Dylan was disappointed.   
And around that same time, Caelynn claims Blake told her to "lie" about their hookup, and said that all of it was a mistake. Ouch.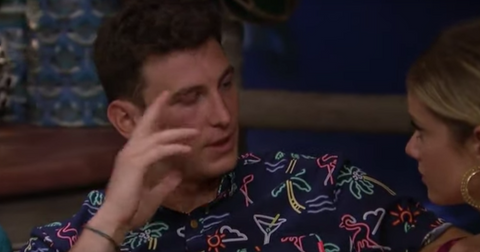 Blake flirted with Hannah G. for most of the first few episodes, but ended up giving his first rose to Tayshia during the rose ceremony, fulfilling his dreams of asking out the gorgeous phlebotomist.
However, Tayshia wasn't wild about the drama between him, Kristina, and Caelynn that was starting to unfold. She hesitantly accepted, saying she didn't trust him.
Both Caelynn and Kristina also ended up separately confronting Blake about his actions, and how he treated them.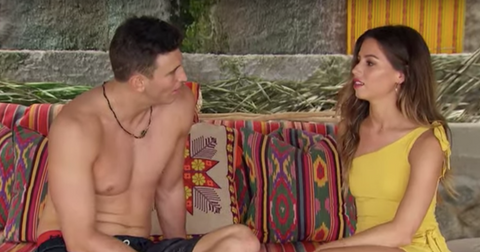 August 2019: Everything is a mess.
In the first few episodes, Caelynn had told Blake how she felt about what had happened between them. As the second episode aired, Blake shared texts from her to his Instagram, to share his side of the story, claiming he never "sweet talked" her, dated her, ghosted her, or called her a mistake. 
He proceeded to share texts from her from Stagecoach and before BIP, which implied he wanted to cuddle and she just wanted to have sex with him.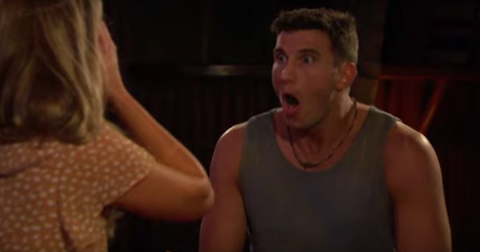 Caelynn responded that none of these texts accurately depicted their relationship. 
"The reality of the situation is that Blake was not a one-night stand at a music festival and the ‪5 a.m.‬ text exchange that Blake chose to share is not an accurate representation of our past relationship." 
She also claims she didn't intend to "ruin someone's character," claiming she let her emotions get the best of her. We've all been there.
...And all of that is precisely why the girls of Paradise don't trust him right now.
Hopefully Blake can fix things for himself, but his future this season isn't looking too hot right now. As we all know, everyone makes mistakes, but like fellow contestant Demi B. so eloquently put it, Blake has immersed himself in a "love pentagon" that definitely won't be undone any time soon. Dang.