Business Owner Refuses to Make Anti-COVID Vaccine Sign For Customer, Sparks Debate
A customer who requested a small business owner create an anti-mask sign was denied and a huge debate erupted online.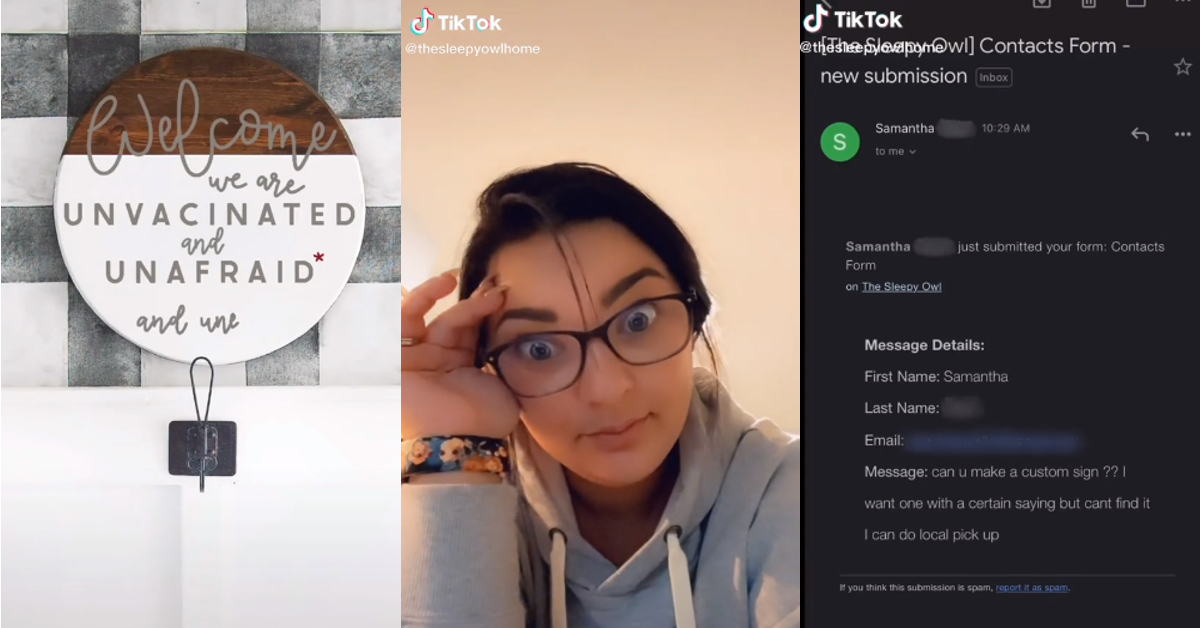 Businesses have the right to refuse service to anyone they want. Massive corporations tend to get themselves in hot water from turning people away, as they can be accused of discrimination for doing so. One would think that smaller ones could get away with ruffling the feathers of a few customers, because folks tend to generally care more about a place of commerce that has a bit more name recognition.
Article continues below advertisement
However, if the reason why a customer was turned away is due to an oft-discussed socio-political debate, like mask-wearing and vaccine mandates, then a lot of eyes can be drawn to such personal businesses, especially if the owner in question is using social media as a platform to voice their gripes in dealing with a customer who asked them to do something that opposed their own personal beliefs.
TikTok user @thesleepyowlhome posted a short clip detailing a conversation she had with a "Karen" who asked her to make a sign that read: "Welcome unvaccinated and unafraid."
She captioned the video with the text, "Just because I can make something doesn't mean I will."
Article continues below advertisement
She makes customized, made-to-order signs for clients and recorded the request by someone known only as Samantha. The camera cuts from the order to the TikTok-er's facial expression, emoting how she felt about the request.
Article continues below advertisement
Samantha's message read: "Can u make a custom sign?? I want one with a certain saying but can't find it. I can do local pick up." The TikTok-er then asks Samantha what type of sign they want made.
"I want a round door sign that says 'Welcome unvacinated and unafraid' but like pretty ya know?? Its for my front door and i need it by thanksgiving. How much $$??."

Article continues below advertisement
@Thesleepyowlhome ultimately denied the customer's request and let them know why: "Samantha, assuming you are referring to the COVID vaccine, I cannot in good conscience make a sign promoting anti-vaccination."
She followed up by stating, "COVID vaccines have been thoroughly tested and proven effective and are entirely safe so there's nothing to even be afraid of. Thanks!"
The customer took the response about as well as one would expect.
Article continues below advertisement

"Um i didn't ask for your opinion i just want you to do your job like im paying you for. or you just cant do customs like you said and are just lieing to our customers or what?? Seriously I just want the sign and im the one paying you and im a lion not a sheep!!"
@Thesleepyowlhome doubled down on expressing her vaccine stance, highlighting the grammatical errors in the customer's request.
Article continues below advertisement

"Welcome we are unvaccinated and unafraid * and uneducated." In the clip, the TikTok-er called the customer a "Karen," and many TikTok-ers commented that the woman was acting "entitled" for stating that they were paying the sign maker for a job that they didn't even remit compensation for yet.
Article continues below advertisement

While there are plenty of studies that show the COVID-19 vaccine is entirely safe, the CDC has acknowledged that some patients (this writer's own wife included) can have severe allergic reactions from the vaccine, including anaphylaxis. These instances are a big talking point for many of those who oppose taking the vaccine.