Couple Who Bought Store's Entire Supply of Meat 'Living in Fear' After Online Backlash
What do you make of the backlash he's received?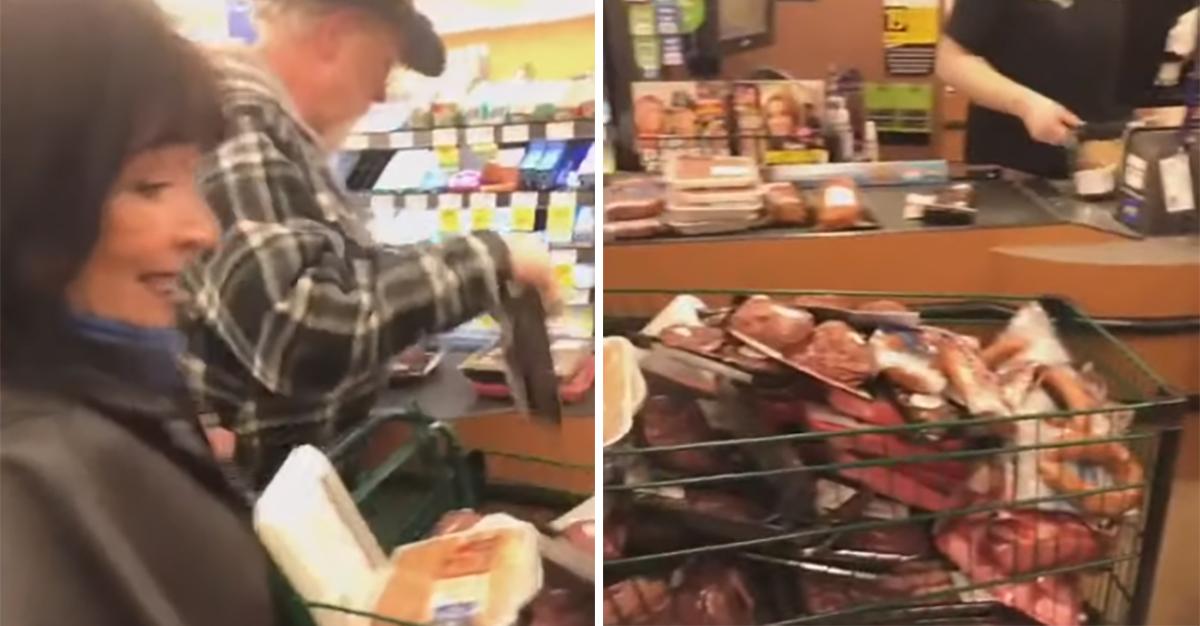 A Canadian couple who bought out a store's entire supply of meat says that they have received death threats after online backlash. Last week, a video went viral, showing the couple filling two shopping carts with hundreds of pounds of meat amid coronavirus panic buying.
Article continues below advertisement
"They proceeded to brag to everyone at the till that they 'cleaned house' and 'there's nothing left for anyone to get' [...] and laughed about 'hoping they could pay for it all,'" a fellow shopper wrote online. "I felt SO sorry for the poor staff, they looked just as disgusted as every customer in the store."
Article continues below advertisement
After Canadian outlet Castanet posted about the incident, the Internet turned detective and identified the couple as Dan Marcotte and his partner. Now, Marcotte says that he fears for his life after receiving death threats online.
"Everybody knows who I am, because I put myself out there, (now) I'm getting death threats and I don't answer the phone so I'm losing business," Marcotte told Castanet. "My own mother is ashamed of me."
Article continues below advertisement
Marcotte went on to add that a mental health disorder had caused him to overreact to coronavirus. "I was driven by fear and concern for my loved ones I had no idea I would get this kind of reaction," he said.
He also pointed out that he had previously offered moving services for free during the 2017 and 2018 wildfire seasons.
"Nobody remembers that now," Marcotte said, adding that he had donated $1,000 to the Lake Country Food Bank after the incident. Marcotte says that he feels like his life is in danger after receiving death threats, and is now worried that his business could go under.
Article continues below advertisement
"If me and my girlfriend had done this two months ago nobody would say a bloody word. We're getting crucified for buying two carts of meat. We might have gone overboard, but we didn't push people or laugh at anyone. I'm not feeling safe, and me and my girlfriend are scared."
Marcotte's apology doesn't seem to have worked, though. "Someone needs to point out to Dan that he didn't do this two months ago," one user wrote. "He did it now, while there's a pandemic on. Big f*****g difference DAN."
While another added: "He missed the entire point of the situation. No one would've care 2 months ago or any point before this. He wasn't preparing for the virus, he was hoarding. Huge difference. Preparations come before the situation."
Article continues below advertisement
The viral video comes as stores around the world struggle to keep with increased demand due to panic buying. In response, many have limited the number of goods that people can buy and even introduced shopping hours reserved for the vulnerable.
The best way to prevent contracting or spreading coronavirus is with thorough hand washing and social distancing. If you feel you may be experiencing symptoms of coronavirus, which include persistent cough (usually dry), fever, shortness of breath, and fatigue, please call your doctor before going to get tested. For comprehensive resources and updates, visit the CDC website. If you are experiencing anxiety about the virus, seek out mental health support from your provider or visit NAMI.org.