Rumors Suggest Caroline D'Amore Is Joining the Cast of "The Hills" Reboot
Rumor has it that Caroline D'Amore is joining the cast of 'The Hills: New Beginnings.' The mom is an heiress to a pizza empire and international DJ.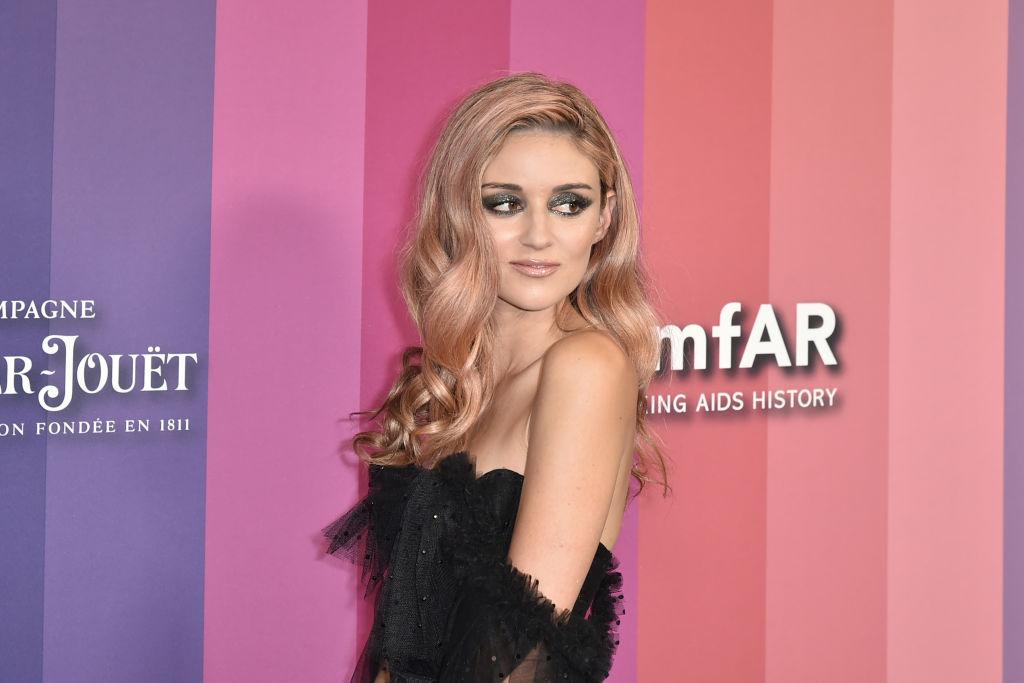 When MTV announced that they were going to bring back The Hills with the majority of the original cast (minus the obvious stars, Lauren Conrad and Kristin Cavallari) for a reboot, every millennial's nostalgic heart grew. The season turned out to be a hit and they're bringing the series back for a season two. While most the cast will come back, news outlets are reporting that actress of The OC fame, Mischa Barton, will not return.
Article continues below advertisement
Rumor has it that Mischa was "too boring" for The Hills: New Beginnings and has been replaced by a socialite by the name of Caroline D'Amore. So who is Caroline, and why does MTV think that she can take the place of Mischa and make it worthwhile?
Caroline D'Amore is the heiress to D'Amore's Pizza.
The 35-year-old is the daughter of pizza restaurateur Joe D'Amore and founder of her own line of organic, all-natural tomato sauce called Pizza Girl. She also came up with and has taken charge of D'Amore Pizza's catering division.
Article continues below advertisement
Caroline has also established her own D'Amore's Pizza location in Los Angeles and launched their food truck, according to her website.
Article continues below advertisement
She is also a DJ and an actress.
When she's not busy running a company, she's also an international DJ. She got her big break opening for will.i.am during the MTV Music Awards in Japan. She is an artist-in-residence at the Hard Rock Cafe in Las Vegas and she has a residency on The Today Show. She opened for Diplo at Sundance, played a party at Coachella, and has been heard in clubs all around the world.
Article continues below advertisement
Caroline has also been in several movies and has had smaller roles in multiple television series, including Entourage and 90210, according to her IMDB page.
Caroline is also a mom, like the other women in 'The Hills' cast.
Caroline might be a DJ, actress, and business owner but she's also a mom. She married drummer Bobby Alt in 2012 and welcomed daughter, Isabella Viking Alt, in 2015.
Article continues below advertisement
She brings Isabella with her on gigs and doesn't have a nanny. Caroline explained to SWAAY, "My daughter [Isabella] has traveled to many of my gigs. We make sure she doesn't feel left behind...She's an amazing traveler and loves being at the restaurants just like I did as a kid."
Article continues below advertisement
Her joining 'The Hills' reboot has caused a rift between her and Mischa Barton.
When word got out that Mischa was possibly being replaced on the show, she took to her Instagram to bash the rumors (and her possible replacement). She shared a screenshot of the US Weekly headline in question on her Instagram with a caption that took digs at the pizza princess.
"Lol. Where do people get their reporting from? As if anyone would watch @carolinedamore try to hoc [sic] her boring ass pasta bowls 🍝👀 and greasy pizza on tv," she continued. "Tried that it was like watching paint dry. 😂 Get the story straight first. @usweekly."
Article continues below advertisement
Article continues below advertisement
Sounds like, if MTV wants the drama, it'd be a great idea to keep Mischa on the show to watch this feud with Caroline play out. We are definitely here for it.
Season 2 of The Hills: New Beginnings is set to premiere June 22, 2020.