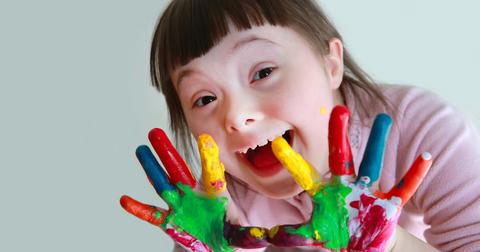 Dad's Thread on "What to Expect" From Daughter With Down Syndrome Goes Viral
By Mark Pygas
Approximately one in every 700 babies in the United States is born with Down syndrome, according to the National Down Syndrome Society. That makes Down syndrome the most common chromosomal condition, which can cause low muscle tone and small stature.
Jason Kneen, a dad from the United Kingdom, recently decided to take to Twitter to start a thread about one of the most common questions he receives: "My child has Down Syndrome, what can I expect?"
"This. 100% this," Jason wrote, sharing a photo of his daughter Rosie smiling.
"Also expect this," Jason wrote. Along with the hashtag "wouldn't change a thing."
The photos garnered thousands of retweets and comments, inspiring Jason to start a thread about his experience of raising a child with Down's Syndrome. He wrote:
"Overwhelmed with the replies, likes and comments about this post and thread — and thank you to everyone sharing their own stories and photos here. "
Jason wrote that he was "totally NOT ready for a child like Rosie," but said that things changed almosy instantly. "Quickly I realized that ANY child can be slow to talk; slow to walk; have learning difficulties," he tweeted. "ANY child can be brilliant & wonderful and amazing."
Jason detailed all the trials his daughter has "bravely" fought — including pneumonia. "She continues to enjoy life, every day, and reminds us and ME how fun it all is," he continued.
While in the hospital for one of her illnesses, Rosie and Jason watched a lot of Moana. That detail attracted a reply from Dwayne the Rock Johnson. "Look at this lovely cookie," Johnson tweeted. "Stay strong Rosie! Uncle Maui loves ya. What can I saaaaayy except you're welcome."
In response to the thread, other parents also took to Twitter to share what to expect from a child with Down's Syndrome.